Digital transformation for long-term development
"I entered the egg industry with all the hardships of small traders in the village market of Thanh Vinh Dong, Long An. Selling eggs, accumulating every penny, every penny, still have to lift like raising eggs lest they break, it's considered done. On rainy days, the road is muddy, swinging a couple of burdens to each house to buy eggs and then rush to the market to sell. Carrying the eggs on my small shoulders, I pressed my feet into the mud to draw blood to keep the load of eggs from shifting and tilting", said Mrs. Ba Huan (real name Pham Thi Huan), Chairman of Ba Huan Joint Stock Company. His early days were full of hardships.
Starting a business with a load of eggs at the age of 16, that woman brought the egg industry to a new page when she announced the application of technology. Ba Huan decided to choose FPT's digital solutions suitable for all areas of animal husbandry, production and supply of his company. In addition, FPT consults Ba Huan in building and digitizing products, automatic production management, resource management, building a database system…
Ms. Ba Huan, affirmed, this is the journey of "transforming" from a traditional agricultural enterprise into a digital agricultural enterprise. , helping the leadership team more closely in the management stage.
This technology system helps the company to manage the livestock production from the hatchery, feed factory, egg farming and harvesting farm to the processed feed factory and distribution management. product. In order for products to reach consumers more conveniently, FPT will build an interactive portal with sales agents. FPT's system helps Ba Huan improve the management and business capacity of the whole chain, reducing operating costs to the lowest level.
"Ten years ago, Mr. Truong Gia Binh 'offered' to support Ba Huan in digital transformation. However, I did not dare to accept the invitation because the size of the company is small and the staff is not capable of technology to meet the comprehensive digital transformation model. Digital transformation is first of all in people, operators. Up to now, I am confident that Ba Huan team can meet and can shake hands with Mr. Truong Gia Binh to do technology. Ba Huan factory has converted machinery and equipment to apply automatic technology, partly facilitating the comprehensive digital transformation process. I think in the future, all businesses, especially agricultural businesses, must change, must digitalize for long-term development," said Ms. Ba Huan.
Ms. Ba Huan added: "When implementing this project, I do not expect to increase revenue, profit or economic benefits for Ba Huan, but expect FPT and Ba Huan to set a leading example for agricultural enterprises. other convert according. This huge collaborative project will resonate with the agricultural industry. Vietnam is an agricultural country with invaluable resources, but farmers are still disadvantaged because they do not have access to scientific and technological advances. Ba Huan wants to set an example: If a business grows from a woman carrying a burden but is also determined to transform digitally, why don't other businesses do it?
Sharing about the story of cooperation with Ba Huan, Mr. Truong Gia Binh, Chairman of FPT Corporation emphasized: Ba Huan has come up and succeeded from a very small product that is an egg, but the vision and development model by Ba Huan has shown that, with respect and strategic steps, Vietnamese agricultural products deserve a great position in the market.
Woman ahead of her time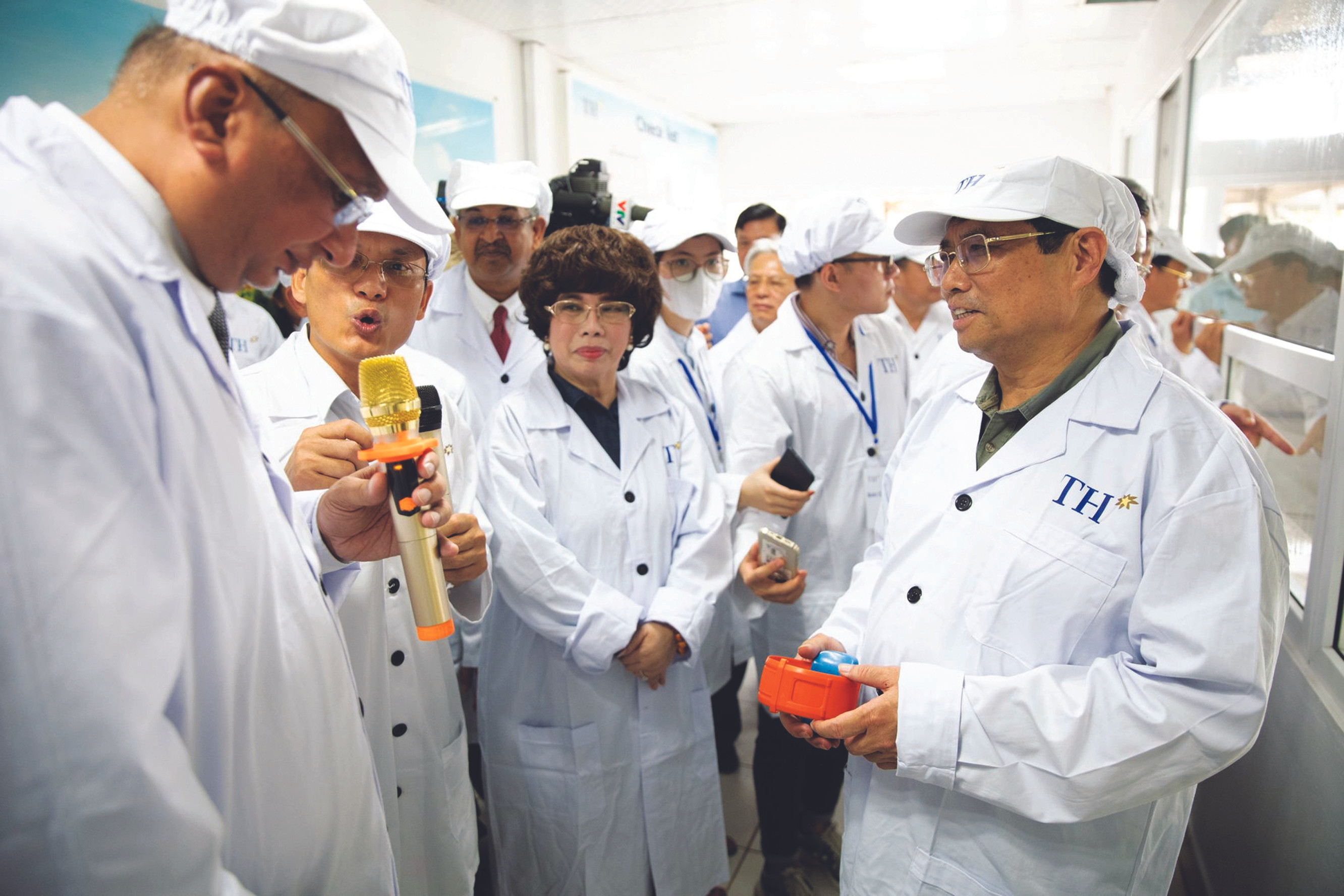 The TH farm clusters in Nghia Dan (Nghe An) were built with a minimum distance of 10 km between the farms. Farm No. 3 is located in farm cluster 1, is the "home" of more than 7,000 dairy cows, of which more than 3,500 are lactating. Farm No. 3 uses the AfiAct system for automatic estrus detection, reproductive management and milk quality management of cows. The most modern rated milking system in Vietnam, designed to milk about 3,600 cows/day, milking 3 shifts per day. One of the differences between TH true MILK fresh milk and other milk brands in Vietnam is the process of expressing and preserving raw milk. Cows are bathed and cooled before milking fully automatic with 4 vacuum nipples.
In order to manage a large herd of cows, the cow's feet are fitted with a Perometer chip, all information about the cow's health is transmitted directly to the signal box at the milking center and updated to the computer. Sick cows will be detected 4 days in advance and the system will automatically refuse milking of sick cows. Clean fresh milk is only harvested from the healthiest "cow". After milking, the milk will go through a closed stainless steel pipeline system, cooled down to 2-4 degrees Celsius, immediately transferred to the milk storage tank and transported to TH Dairy Factory for processing. This is a perfect closed milking cycle, no air is allowed to enter the raw milk, ensuring its integrity, absolute freshness and cleanliness.
Not only stopping at milking, TH applies technology to both packaging and product preservation. The conveying line runs at a very high speed, 7 boxes/second. The system has an automatic identification camera. If it detects that the expiry date is lost or unknown, or there is no spoon in the yogurt carton, the system will alert immediately and the machine arm will automatically push the defective product out of the line. This system replaces human, helps to strictly check the packaging quality, optimizes the time. Similar to image processing technology, which helps to check and detect defective products in the packaging stage, it is an automatic weighing system.
Previously, it was necessary for a worker to do only one very boring task of sitting and looking at the scale to measure the weight of the product box. If the number on the scale is not correct, the worker will check it out. This manual method used to cause many problems such as eyestrain, so the wrong number of pounds, boring work causes drowsiness, and is easy to lose focus. Now, the machine replaces that worker, helping to detect that the product box is not heavy enough for the machine arm to automatically push the box out.
At the end of the line, boxes of qualified products are stacked on pallets to prepare for shipment to the warehouse. Previously, at this stage, 3-4 workers were needed to take turns carrying and arranging goods. After applying the technology, the robot with the giant robotic arm will automatically identify the container and arrange it neatly on the pallet.
Finally, the logistics and management stages are also applied WMS – a specialized system for warehouses with large capacity, with more professional and modern features, helping to replace human labor in the process. operate. Just enter the correct data, WMS will automatically calculate and suggest tactics for arranging and allocating goods in the warehouse, so that the optimal travel distance and product space are optimal.
If now the story of digital transformation and IoT applications is a flourishing trend, at TH True Milk, the digital transformation has taken place decades ago. "14 years ago, feeding cows with chips, listening to music, and taking a cool bath was strange and funny. But in fact, it is a vital element of dairy farming, a revolution of the livestock industry in Vietnam. By attaching the chip, we can receive data in each cow, know when the animal is in heat, milk status, and even health and disease status for early treatment," said TH representative. True Milk said.
TH under the leadership of Ms. Thai Huong is known as one of the enterprises that play the role of creating a revolution in the agricultural field in Vietnam. Previously, TH has strongly promoted the development of the dairy industry since 2008 by investing in dairy farming and concentrated fresh milk processing using high technology.
Thai Khang
(Posted in the Vietnam Post newspaper, issue of Xuan Quy Mao 2023)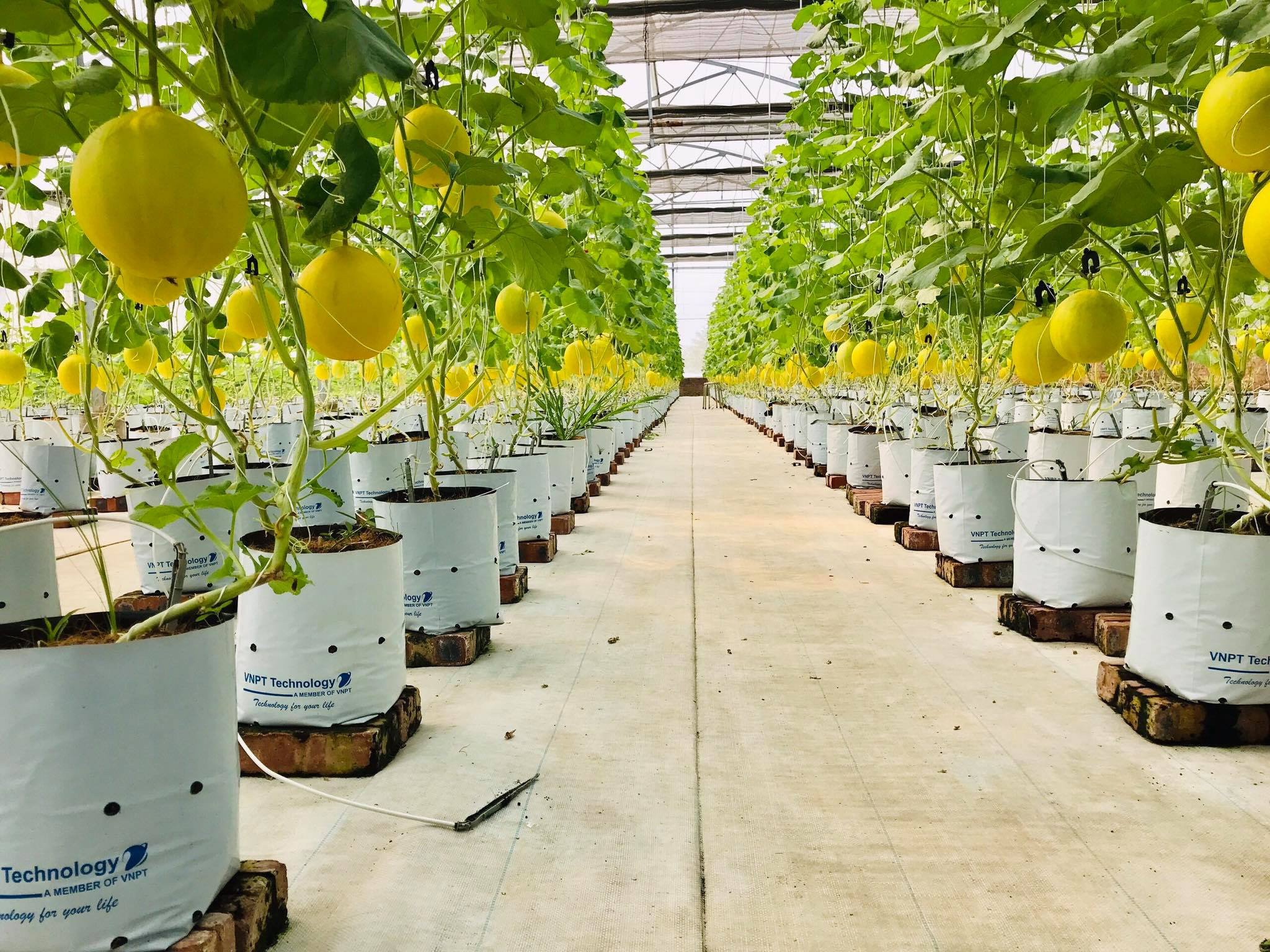 Deputy Minister of Agriculture and Rural Development Phung Quang Tien said that digital transformation of the agricultural sector needs a long-term vision, must start with farmers and must be based on digital and digital data.