Blockchain
We have only seen a very small part of the Blockchain application market
Before some comments that Blockchain in Vietnam is mainly GameFi and cryptocurrencies, VietNamNet had an exchange with Mr. Phan Duc Trung, Vice President of Vietnam Blockchain Association, to give readers a message. Overview of the application of Blockchain in the country today.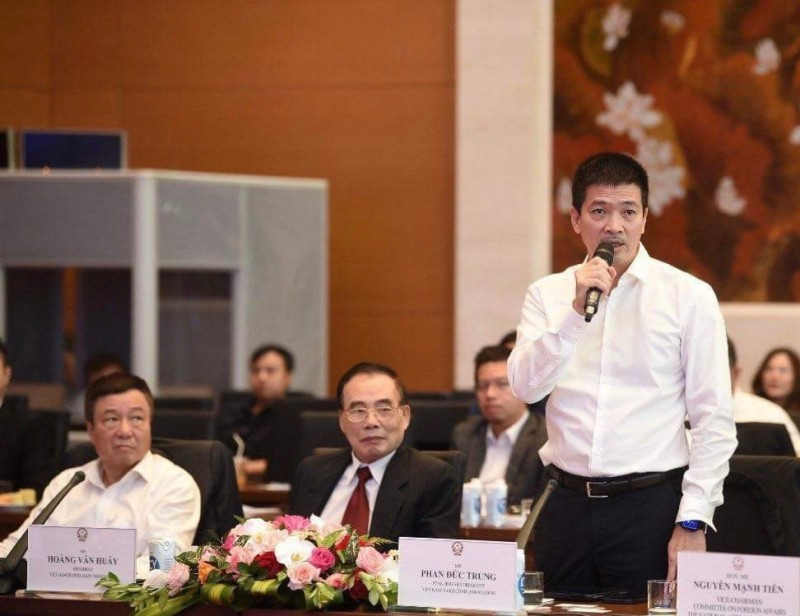 Blockchain is being applied very strongly in the world, so how is Blockchain currently being applied in Vietnam, sir?
Blockchain application in Vietnam is spontaneous from grasping the world's trends in cryptocurrencies in the world of software and miners. This is a simple and convincing approach in most countries. However, in a short time, some trends such as DeFi and GameFi in 2021, which were applied very quickly by Vietnam, have had a great impact on the global influence, of which the most famous is the Vietnamese game Axie Infinity, which reached the top. 30 GameFi Global. This game has become a global phenomenon with a market capitalization of up to 2.9 billion USD…
In the corporate market segment, due to the prudence and resource-intensive nature of the applications, which are performed at a limited level of research and testing, most of the products on traceability and financial services have been tested. There are products and solutions but not widely available.
Overall, I see that the biggest achievement in recent times is that the Blockchain programmer human market has been strongly promoted into the global wave of human resource supply of this industry. It is a premise for opportunities to develop application trends in the future.
In fact, in Vietnam, many people think that Blockchain is defined as a cryptocurrency (Crypto) or a game, in your opinion, why is that?
The cryptocurrency market is always the easiest thing to understand to popularize and attract people to Blockchain. As I said this is a global trend. If we consider the ratio of popularity of cryptocurrencies to enterprise applications including products or solutions at the research level, it is true that its proportion is higher than that of enterprise application Blockchain.
However, I think in the coming years this disparity will narrow thanks to the interest of regulators promoting Blockchain knowledge and application products, which will help people avoid the pitfalls of money. deceptive or multi-level encryption.
The majority of Vietnamese citizens currently only see a very small part of the Blockchain application market expressed through game projects and digital money, unintentionally ignoring the overall picture of this technology being applied in the world. many areas of life and society such as logistics, healthcare, supply chain, entertainment, identity … and are gradually changing people's interactions with each other in a more positive direction. Legal policy for Blockchain/Crypto, opportunities and risks in this field are always the top concerns of businesses standing on the threshold but still afraid to step into the big potential playground. This.
This trend will be a driving force to promote sustainable development and bring socio-economic benefits from Blockchain in the 4.0 revolution in Vietnam.
In your opinion, in what direction should Vietnam's Blockchain develop in the current context, when all opinions are that Vietnam is in the leading group of this technology in the world?
As far as I know, the authorities are researching to manage Blockchain applications in Vietnam. It is hoped that the participation of the regulatory agencies in promoting the creation of legal corridors, limiting the negative of the market and promoting it to develop in the right direction. We are at the top, probably the top, in terms of potential human resources in this industry from grasping trends to low product prices.
I think that the management agencies that issue any policy should maintain and promote this human resource. This is the resource of our Vietnam. Avoid the loss of human blood flow to countries with more favorable policies.
In addition, we should have policies to encourage large enterprises in technology application to remove old regulatory barriers. These policies are not related to technology but rather to professions or purely business documents. For example, what is the cost of advertising, what is the gift, what is the tax law … or what policies are sandboxes or promoting fintech businesses.
To develop in the above direction, what difficulties are Vietnam facing and what solutions are needed to develop, sir?
Technology is always risky to deploy and costly to promote.
The first difficulty is accessing capital sources. Many Vietnamese enterprises go abroad because it is easier for them to raise capital in this industry. So why don't we consider ICO sandbox structures. This form of fundraising has been around for nearly 10 years and many countries have quite clear laws such as Japan and Singapore with STO laws.
The second difficulty is how to see when an application technology company fails. There needs to be a purely economic or a purely civil view of failed tech companies through the legal system. This is accompanied by tax incentives when investing in technology in-depth in enterprises.
In short, open capital and law will be the solution to all solutions.
Does the Vietnam Blockchain Association have any suggestions to develop Blockchain in Vietnam in the near future?
Dialogue and information exchange with regulatory agencies is the top priority of the Vietnam Blockchain Association (VBA) in the current period. We actively promote with domestic and foreign regulatory agencies such as IMF, WB, associations of the same industry. The recommendations of VBA to share information with agencies are quite favorable, so I think these are the motivations that help us always have faith in the development of the Blockchain industry in Vietnam.
As for the Vietnamese community, we are discussing with technology clubs, forums and groups about promulgating some community standards as well as product evaluation standards.
Ethical standards are very important in this industry but have not been widely discussed in Vietnam. VBA will also raise and discuss with the community and system experts soon to give a common voice.
In addition to the policies on capital mobilization, stablecoins, and cryptocurrencies of the Central Bank (Central Bank Digital Currency – CBDC), standards on anti-money laundering (AML – Anti Money Laundering) are always the story. governments around the world are concerned. Therefore, Vietnam needs to integrate and comply with international anti-money laundering standards. Blockchain cannot be sustainable without AML standards in banking and economic activities. In the propaganda work, the combination of information security, anti-money laundering … is one of the criteria that the Association can join with the State to jointly create a safe and transparent environment for the work. Blockchain application.
Le My (Perform)