More than 12,000 people have died due to earthquakes in Turkey and Syria. Tens of thousands more are still trapped under the rubble. Rescue efforts continue to take place urgently, in which modern technologies also support a significant part of the relief staff.
Drones
Drones are increasingly used in everyday life and in war. They are also invaluable tools in the event of a natural disaster. Multiple images from Turkey and Syria showing the devastation and scale of the earthquake were sent back from drones, allowing rescuers to get a clearer picture of what happened.
Spain said it would send drones to Turkey as part of an aid package.
Private enterprises such as Fly Bvlos Technology, Garuda Aerospace … also send drones and pilots to support. Garuda Aerospace's Kisan aircraft will deliver medical supplies, food, and medicine to victims.
Drones can not only take pictures from above, but can also be equipped with sensors to assess damage, such as detecting high levels of methane to signal the risk of explosion if the gas supply fails.
NASA's FINDER Instrument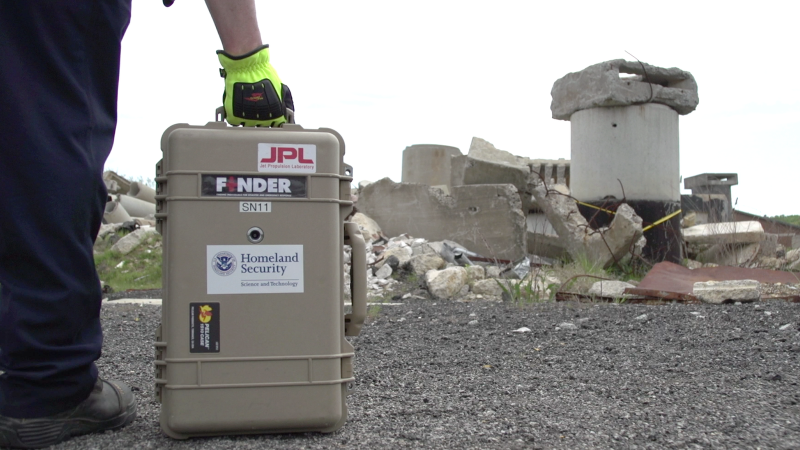 About the size of a suitcase, NASA's technology can detect a heartbeat from a distance of 9 meters under the rubble. It is used to search for survivors of incidents earthquake.
In 2015, FINDER found four men buried about 3m under bricks, mud, wood and other debris in Chautara village, Nepal. Two years later, the technology was licensed to companies in Mexico to support the 7.1 magnitude earthquake.
FINDER works by sending low power signals through the rubble looking for changes in the reflections back to these signals. It can be caused by very small movements such as breathing, heart beating.
Satellite map
Within hours of earthquakes in Turkey and Syria, the United Nations activated an emergency satellite mapping service. It's basically a live map, providing a real-time picture of the damage caused by an earthquake and how far-reaching its impact is.
The UN Satellite Center does not operate its own satellites, but relies on member states to collect images from government agencies and private businesses. The map will help rescue teams optimally respond to disasters.
In addition, the EU also activated the Copernicus satellite system to provide emergency mapping services.
Satellite Internet
Elon Musk – the owner of the aerospace company SpaceX – is ready to send the satellite Internet system as soon as the Turkish government approves. He did the same thing when Russia attacked Ukraine in 2022.
Starlink satellite Internet service provides high-speed broadband to remote, isolated areas of the world. The receivers on the ground will connect to thousands of satellites located in low Earth orbit. The more satellites, the lower the latency and the more stable the signal compared to traditional broadband.
Social network
As with previous disasters, social media plays an important role in coordinating relief, finding people in need, and sharing the worst-affected areas. For example, a tweet by people trapped under the rubble in the city of Antakya (Turkey) was retweeted more than 43,700 times and reached millions of people.
Government agencies are also constantly updating on their official accounts, and the Turkish Red Cross shares ways for people to support each other, including donations.
Technology enterprises look to Turkey – Syria
Amazon, Google and Apple announced they would aid Turkey. Amazon is committed to donating relief items from its fulfillment center in Istanbul to the affected areas. These include blankets, tents, heaters, food, diapers, baby food, medicine and other essential items as the victims were not only affected by the earthquake but also endured the harsh winter weather. .
Meanwhile, Google says it will activate "SOS Alerts" and provide relevant relief information to those affected. This information includes emergency phone numbers, websites, maps, translation of useful phrases, donations … Apple CEO also said the company will carry out relief activities for people in disaster areas.
(Synthetic)