Cư dân mạng
Too frugal, your life often stagnates and is hard to go up?
When you are young, you should live "to the fullest" or live "thrifty" are opinions that are being debated a lot by the online community in recent times. Many people were excited to share their thoughts on these two seemingly contradictory views of life.
This is also an interesting content presented in the final quarter-final match of the School Teen Gameshow, broadcast on channel VTV7, between the two participating schools, Hanoi High School for the Gifted and Ha Long High School for the Gifted.
Acting as an advocate: "We believe that youth should pursue a consumption lifestyle instead of a frugal lifestyle", Duc Huy representing the group from the High School of Foreign Languages ​​- Hanoi opened the debate with the affirmation: "In the end, paper is only is a worthless object, only when money is used to improve people's lives does it have spiritual value. And we are here to advocate for young people to follow a consumption lifestyle instead of thrift.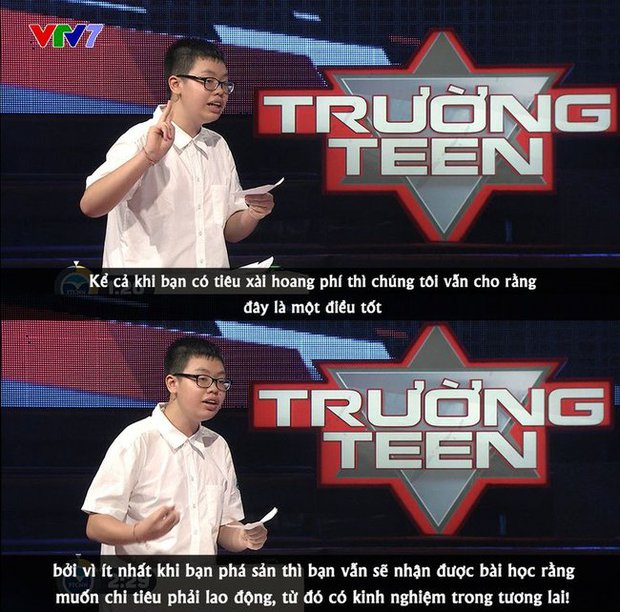 The thesis received about the "like storm" of Duc Huy
First, about the definition, I think, the consumer lifestyle is to emphasize spending, shopping above and they will have to work to make up for it. The frugal lifestyle is a lifestyle that eliminates unnecessary spending and focuses on a minimalist lifestyle," Duc Huy said.
To prove it, Huy made two points: A consumer lifestyle brings better personal development and a consumer lifestyle will be at the core of socio-economic development.
First, the consumer lifestyle creates the impetus to develop life. When a young person follows a consumerist lifestyle, this will help improve their quality of life both materially and spiritually and they will achieve a certain level of self-satisfaction. And when they achieve this, they are more motivated to work, to earn more money.
For example, when you buy an iPhone5, then you will be more motivated to continue working and earn more money to buy an iPhone 7. The extra money will be your profit.
Why is this motivation important? Since you're living in the midst of a post-pandemic economic recovery, it's essential to have an incentive to drive the workforce of the future.
Secondly, most people will find it difficult to separate the two concepts: thrift and frugality. If you follow a frugal lifestyle, your life will often stand still and can hardly go up. In addition, young people will tend to change their goals constantly, leading to the result that the large amount of money you have saved cannot buy happiness.
For example, you try to save money to buy a bicycle. When you have enough money, you think you will save more to buy a motorbike. And when you have enough money to buy a motorbike, you continue to accumulate money to buy a car… Just like that, you will have a lot of money but never buy happiness.
Next, Duc Huy posed the question: "How can we have a mechanism to control a consumer lifestyle that won't turn into a wasteful lifestyle?.
"In our world, there will always be media, education, and family objects that condemn and warn against unreasonable spending behaviors.
Even if young people spend lavishly, we still think this is a good thing. Because at least when they fail, they go bankrupt, they still get a lesson. The lesson is that spending needs to go with labor, and it is these lessons that will be the driving force and experience for the future.
We think that, during the Covid-19 epidemic, almost everyone understands the seriousness of the lack of economy, so even following a consumer lifestyle in this context, it is rare for anyone to dare to overdo it.
On the contrary, in the world you (the opposing team) always think that, although it is difficult for people to experience failure, they will just have to sit there, hold a lump of money and not learn any lessons. ….", Duc Huy said.
Reflecting on Duc Huy's opinion as well as expressing disagreement with the consumer lifestyle, Thuy Quynh from Ha Long High School for the Gifted said: "First of all, you say that when saving, people sit on piles of money. Money can't buy happiness But let me prove that both of our worlds can cause regret and unhappiness
Maybe we are not happy because we don't have a lot of experience to spend money for ourselves, but we have money, we have savings to do other things, for future projects and dreams. While you are both short of money and have no savings, making it unlikely that you can do further things. From there, you will have to regret the act of spending money on your forehead," Thuy Quynh opened the debate.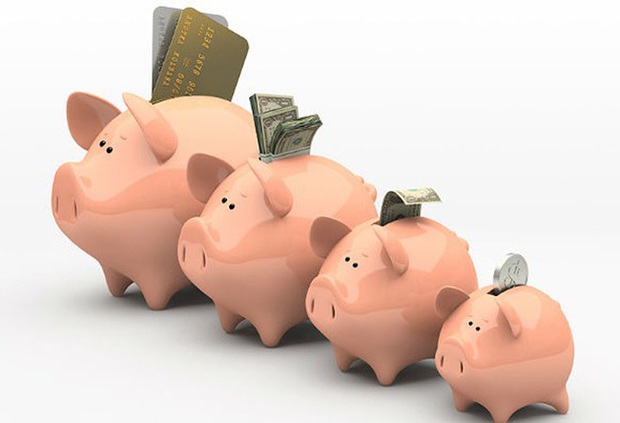 Consumption to make yourself happy, promote socio-economic but need to go hand in hand with saving
The female student also gave a definition, those who pursue a consumer lifestyle are those who have the habit of buying a lot, continuously buying all kinds of goods and services but not necessarily meeting the needs such as fashion, entertainment, etc. These items will be unnecessary expenses.
A frugal lifestyle is to limit unnecessary spending.
"In here, there is a very important object that you have not mentioned, which is young people. In them, there are four main characteristics:
As the main consuming force of society, their consumption trends will greatly affect the economy in terms of psychology, they are strongly influenced by trends and advertisements of influential people; curious about new things, love to find new things… Behaviorally, they are willing to overspend on products that they like personally, what they need here is a stable spending strategy determined", Thuy Quynh analyzed.
According to Quynh, if you follow a consumerist lifestyle, sometimes young people spend money not because of necessity but because they follow trends. They want to satisfy immediate, short-term needs. While society always produces new things, so they keep running like that. This is wasteful spending.
This lifestyle also makes people feel that they always need to spend, never have enough and want to spend. Meanwhile, purchasing policies, credit cards will create a tendency to spend money before earning and then they will have to suffer debts.
"So why can a frugal lifestyle solve this problem. Because the satisfaction of people who follow this lifestyle is not affected by social and objective factors. They only choose to buy real things. essential and really necessary; things with quality commensurate with the price and can be used for a long time…And this is the key to solving the problem of wasteful spending", Thuy Quynh concluded the article. essay.
Teen School is a debate game show for students who love to debate and express their thoughts and views on issues in society. In each issue, the program will cover a different topic, revolving around family, school and life.
In order to expand and develop debate for students and create an environment for them to interact about ideas, have the opportunity to speak their voice, improve essential soft skills such as critical thinking, eloquence, presentation, how to listen and interact with people, teamwork.…
Journalist Chu Minh Vu, expert Nguyen Ngoc Tu Uyen and Dr. Nguyen Chi Hieu play the role of balancing and grading, scoring based on arguments, persuasiveness, clear examples, and organizing ideas and words. science.
You are reading the article
Too frugal, your life often stagnates and is hard to go up?

at
Thuvienpc.com
– Source:
Soha.vn
– Read the original article
here