Economics
The price of oranges dropped dramatically, farmers became shippers
Working as a farmer and working at the same time… shipper
Tra On district is the locality with the largest orange-growing area in the province Vinh Long with an area of ​​more than 9,000 hectares. It is estimated that each hectare of oranges in Tra On land yields about 50 tons.
This is the time when the oranges are harvested, the selling price drops dramatically, but there are no buyers, and the farmers suffer heavy losses. Every day, gardeners in Huu Thanh, Thoi Hoa, etc. backlog tons of fruit, making farmers worry.
A farmer who grows earthen oranges in Huu Thanh commune said that although the selling price is very low, it is to protect health for trees, avoiding the situation of oranges falling and polluting water sources, so they are ready to harvest, sell off to traders and accept losses.
Besides, many farmers had to carry oranges themselves to retail by motorbike to sell them at a higher price. There are even cases where farmers use social networks to sell oranges. When there are buyers, farmers make their own shippers to deliver the goods.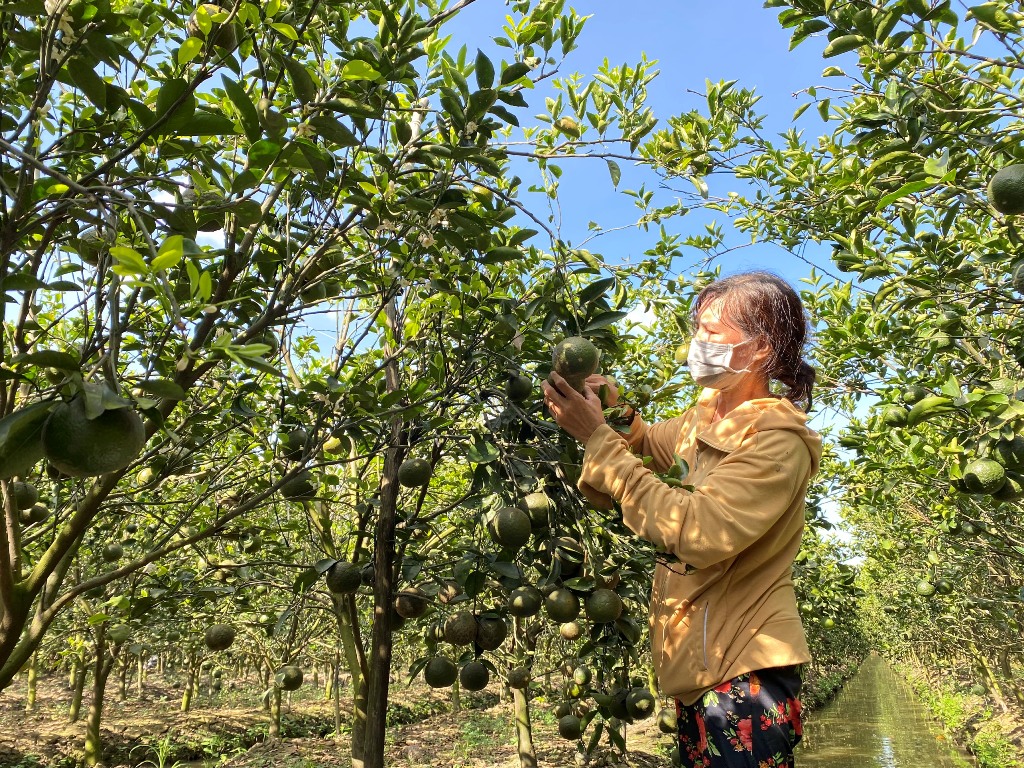 Mr. Huynh Thanh Tien, Chairman of Huu Thanh Commune People's Committee, said that the locality has a large area of ​​orange cultivation in the district, with over 1,200 hectares, of which about 700 hectares are producing nine seasons of fruit with over 10,000 tons of oranges in stock.
Because the price of oranges is currently at a very low level, around 2,000-3,000 VND/kg, farmers pack their own boxes and then sell them at a higher price.
Talking about the cause of the dramatic decline in orange prices, Mr. Tien said that before that, the price of oranges was quite high, over 10,000 VND/kg. However, before the 2023 Lunar New Year, the price of oranges ranges from 6,000 – 7,000 VND/kg, at this price, farmers are not profitable.
Because of the price difference compared to previous years, many farmers have anchored to wait for Tet in the hope that orange prices will increase. Therefore, leading to a huge backlog of oranges and a drop in price to only 2,000-3,000 VND/kg.
"Facing the decline in orange prices, the locality is making statistics and reports to the district and finding solutions to support farmers, but finding the output is also very difficult. At present, most traders choose to find good oranges to buy. The remaining oranges do not meet, farmers find retail sources by themselves," Mr. Tien added.
"Rescue oranges" in trouble
Exchange with ReporterMr. Nguyen Van Trang, Chairman of Tra On District People's Committee said that in the past, the whole district had 14,000 hectares of rice land. But now only about 3,000 hectares remain, while oranges occupy more than 9,000 hectares (including newly planted areas and fruit-bearing areas).
Oranges are mainly consumed domestically, with big markets such as Ho Chi Minh City and Hanoi. Oranges are priced and sold in hot weather. At present, due to the current cold weather, consumption is low, while supply is too large, leading to imbalance and falling prices.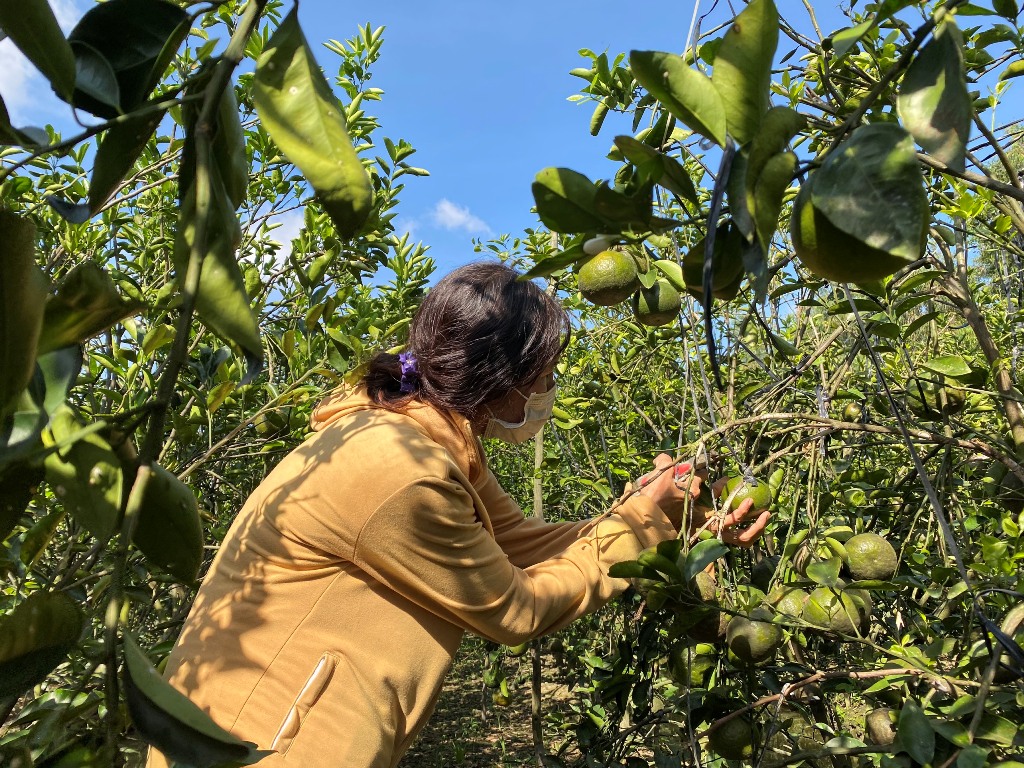 "Time of the epidemic" Covid-19 During the outbreak, the annual price of oranges was due to many people buying this fruit to use, but when the epidemic situation was controlled, the number of people buying oranges decreased significantly… These are the causes leading to the outbreak. the decline in the price of oranges. The current decline in the price of earthen oranges is only local …", Mr. Trang said.
According to the head of Tra On district, the locality has directed the District Department of Agriculture and Rural Development to coordinate with relevant units and link companies in Ho Chi Minh City to "rescue oranges" to help farmers. .
However, the "rescuing oranges" encountered difficulties, because the oranges could not be used for a long time. Especially at the present time, when oranges are ripe, the storage time is only about 1 week, even if the fruit is waterlogged, it is very difficult to consume.
Currently, the Department of Agriculture and Rural Development of Tra On district and units related to the communes in the area are surveying and grasping the situation. Then, report to the Standing Committee of the District Party Committee to find a direction to support and help orange farmers in the area overcome difficulties.
According to some experts, in order to limit the situation that farmers "have a bad season", it is necessary to have specific solutions to create a closed chain in agricultural production. Since then, special products such as: fruit juice from oranges, cereal powder, etc., are sold at stable prices. Only in this way can we create competition with a sustainable agriculture.
Thanh Lam
You are reading the article
The price of oranges dropped dramatically, farmers became shippers

at
Thuvienpc.com
– Source:
www.nguoiduatin.vn
– Read the original article
here