Khám phá
The only beach in the world that has the ability to "transform"
The beautiful country of Croatia has long been famous for its quaint towns, large and small islands with charming natural beauty and beautiful islands. beach "fairy" with clear water, sparkling jade green.
Among the beautiful beaches of this "European pearl" country, there is a beach with "magical" ability that always attracts a lot of tourists. Zlatni Rat beach is located on the highest Adriatic island of Brac, 450km from the capital Zagreb.
It is a 580m long stretch of fine golden sand with a conical shape like a protruding nose, striking against the blue background of the ocean. Seen from above, you can see all its beauty. However, what really impresses visitors is the "1-0-2" transformation ability of this beautiful beach.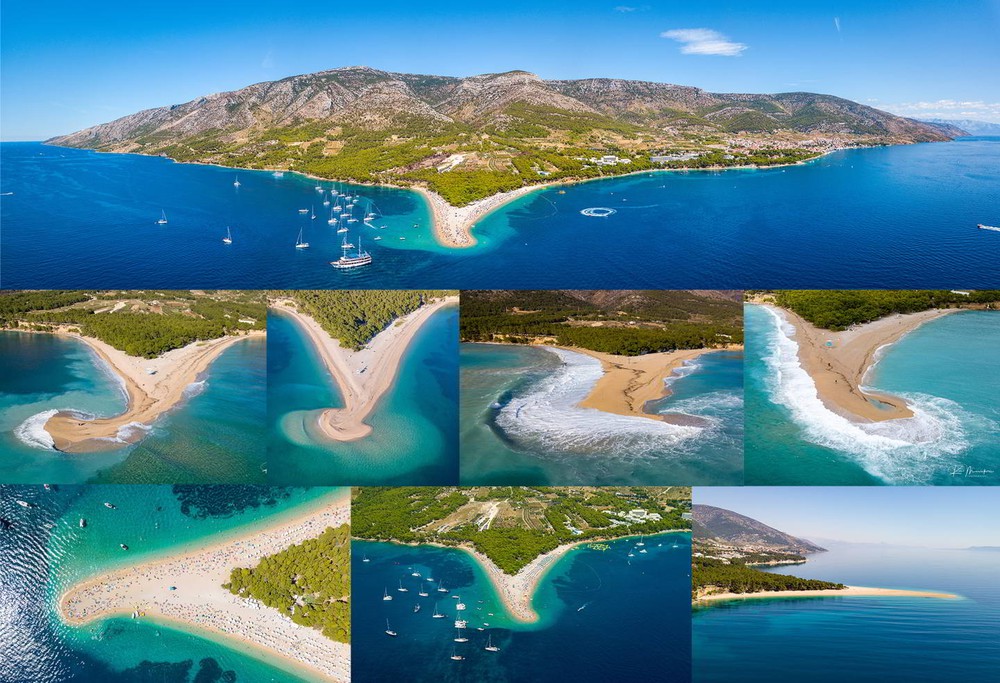 If you take a look at these pictures, do you realize they all took the same place? It is really Zlatni Rat beach, a beach with the unique ability to "transform" in the world.
The sand tip is more than half a kilometer long, sometimes stretching and curved like a giant tongue, sometimes "transforming" into the shape of a nose, a horn or sometimes like a hook.
It can even bend like a shrimp and form a small lake in the middle. Sometimes, the beach has the shape of a human tongue or nose. Many visitors come to Zlatni Rat to swim just to see the exciting moment when the beach "transforms" right before their eyes.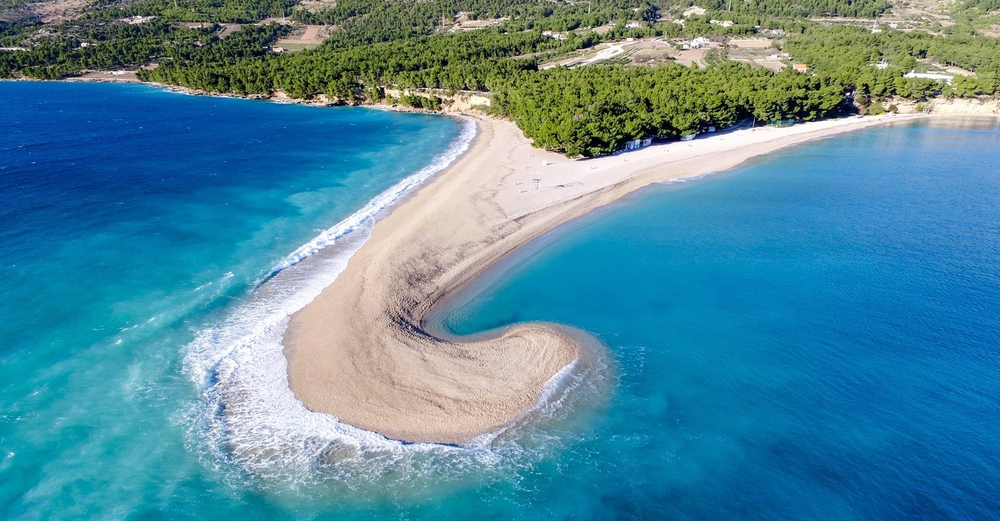 Zlatni Rat has been repeatedly named the Best Beach in Europe and is sometimes referred to as Golden Cape or Golden Horn beach. Whatever you want to call this beach, it is regularly named one of Croatia's best beaches.
Why is it so strange?
In a day, the beach can change shape and direction many times, first the small strip of sand in the water protrusion will move to the east and then gradually move to the west.
In particular, the sand protruding part of Zlatni Rat beach often faces east. However, when the strong southeast wind known as Jugo blows, it will slowly tilt to the west.
Besides, the combination of tides and ocean currents also helps Zlatni Rat to be "flexible".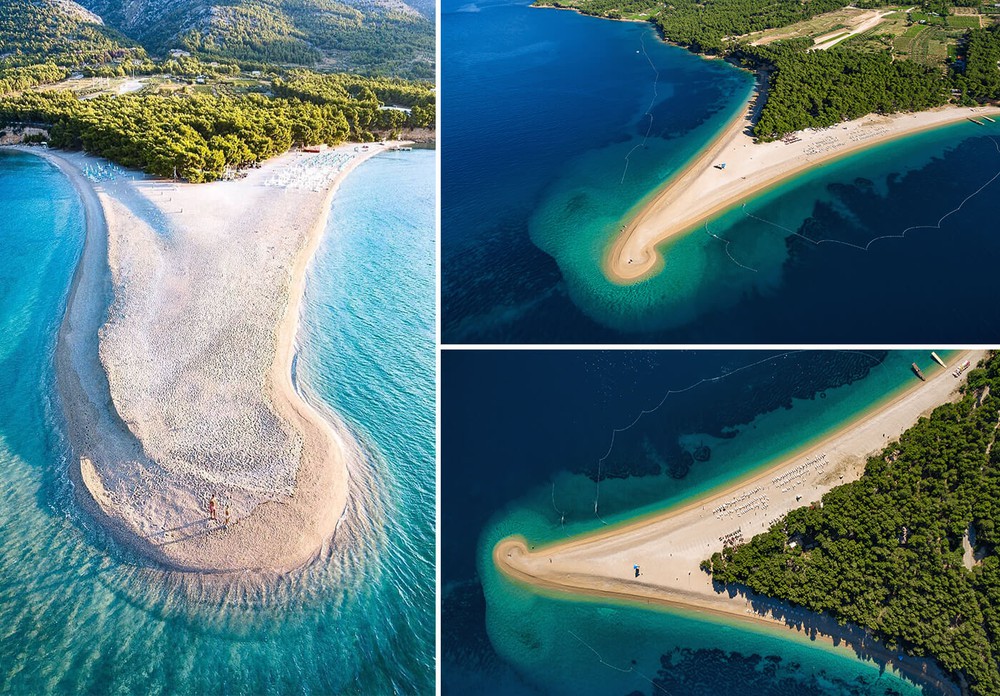 An attractive beach
This beach is formed by a very fine layer of sand and gravel, next to the very clear and blue sea. Behind it is a dense pine forest, an oasis that provides shade for visitors to avoid the heat of the Sun during the hottest times.
Thanks to the opposite flow of the two sides and always a light breeze, Zlatni Rat is also a destination for many enthusiasts of water sports such as windsurfing and skyte surfing, in addition to this area also offers services. scuba diving through a diving school.
Popular activities are windsurfing and kitesurfing. Strong winds called Maestral often blow on clear days. This is the ideal time for visitors to play water sports. Near the beach are swimwear and board rentals.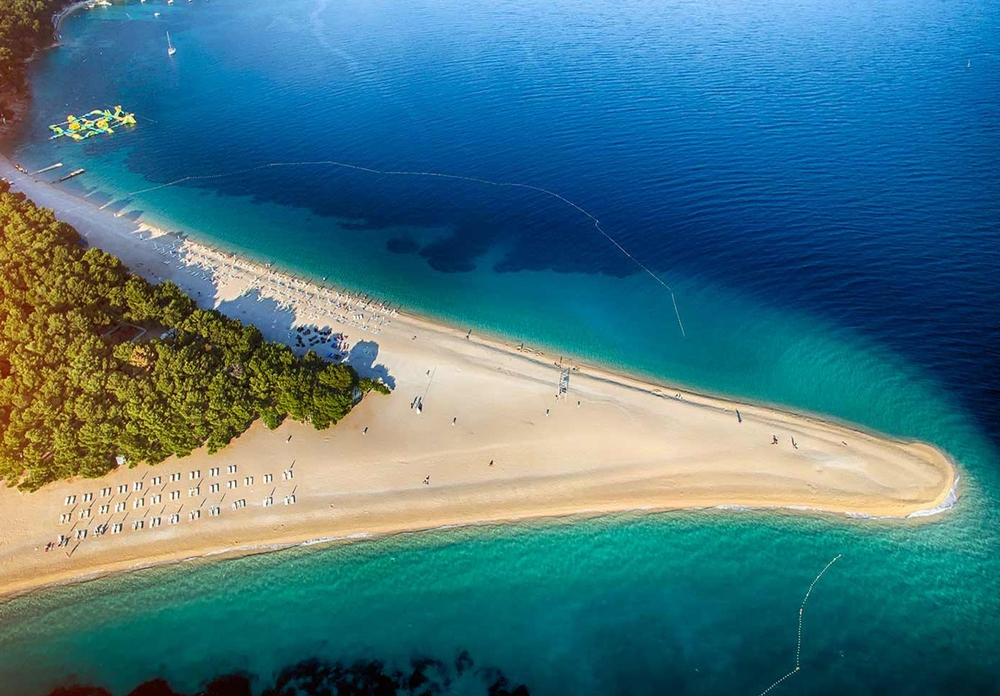 A few steps from the beach are two restaurants where you can enjoy local specialties under the shade of pine trees. The remaining stalls sell fruit, drinks, pancakes…
In addition, on the nearby beach, there are kayaking, jet skiing, scuba diving, tennis or beach volleyball services.
Visitors can also visit Villa Rustica (also known as "country villa" – the term for suburban villas once used by the ancient Romans). Therefore, today's visitors often call it "Roman villa".
Many people who come here also enjoy the "happy stone" on the west side of the beach. It is a small stone in a snail shell, which looks like a fossil. It is believed that this stone will bring good luck.
Every year, Zlatni Rat beach tends to shift nearly 20° and stretch about 30cm. It is a true natural wonder, considered a symbol of Croatian coastal tourism and one of the most famous and sought-after sites on the magnificent island of Brac.
This unique and well-equipped beach is easily accessible by ferry from Split port or by plane via the island's small airport.
Source: Mybestplace, Chasingthedonkey
You are reading the article
The only beach in the world that has the ability to "transform"

at
Thuvienpc.com
– Source:
Soha.vn
– Read the original article
here