The whole Meo Vac district (Ha Giang province) has 2,609 students studying in grade 3 in 76 classes. According to calculations, with 4 lessons/week/class x 35 weeks of practice x 76 classes, all schools in Meo Vac district need to deploy 10,640 English lessons/school year. Meanwhile, the district has only one English teacher.
The "troubled context" of the highland district
Mr. Bui Van Thu, Head of Education and Training Department of Meo Vac district shared: "Meo Vac is the most difficult and most difficult district of Ha Giang province and is one of the 62 poorest districts in the country. With such socio-economic conditions, even if we want to recruit people, it is not easy. Previously, the district had 3 English teachers in primary school, but 2 of them moved to the lowland in the years 2020, 2021.
The seemingly deadlocked problem was gradually removed when, through volunteering sessions, the leaders of the Meo Vac Department of Education and Training directly raised the issue with Mr. Nguyen Xuan Khang, Principal of Marie Curie School (Hanoi). and ask for help. Difficulties were quickly solved when Meo Vac applied online English teaching (3 hours/week from the Hanoi bridge; the remaining 1 period was managed by the sole teacher of Meo Vac district).
"I was stunned by the local proposal. At that time, I wasn't sure if I could do it. Because this is the main program, accepted to do quality and serious work, can not be superficial. I thought for a day," said teacher Nguyen Xuan Khang. And then after deciding to accept the offer, Mr. Khang quickly discussed the specific implementation method (from network infrastructure/line quality, textbooks and lectures, assessment of students' level to teacher promotion. project for each lesson).
On September 12, 2022, online English teaching from the bridge point of Marie Curie School (Hanoi) to 18 remote primary schools of Meo Vac district officially started. The cost for this activity is supported by Marie Curie School, with a budget of about VND 1.5 billion. Thus, with 3 lessons/week/class x 35 weeks of actual study x 76 classes, Marie Curie school will support online teaching of 7,980 lessons/school year 2022-2023 for all 18 primary schools in Meo Vac district.
If calculating the cost of Marie Curie School to pay salaries for 20 direct teachers (160,000 VND/class), multiplied by 7,980 lessons, the amount will be 1,276 billion VND. However, all are… free when implementing projects for schools in Meo Vac. What they received in return was the smiles and recognition of the hearts of the authorities and local people.
Erase the distances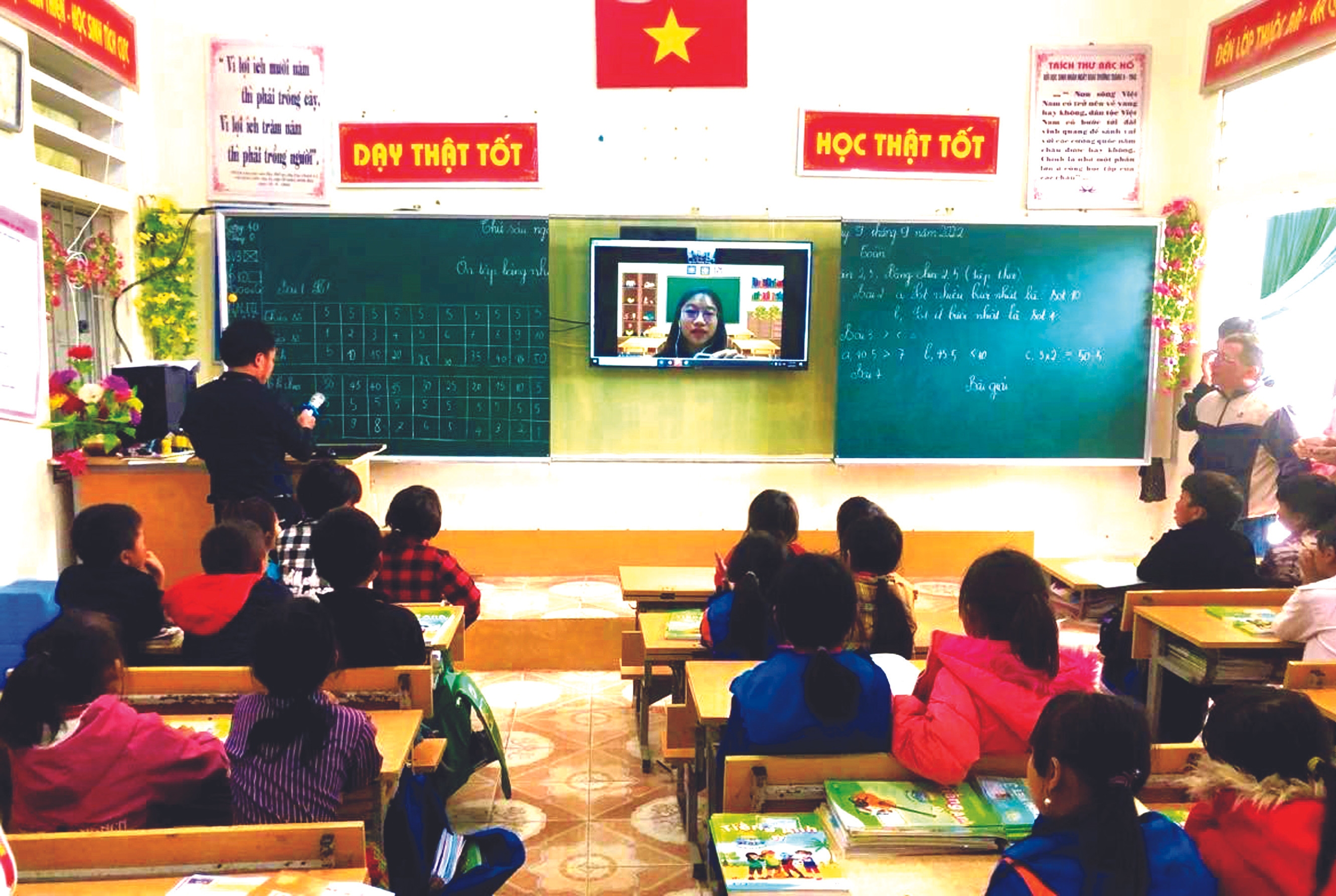 Ms. Nguyen Dieu Linh, a teacher participating in the project, in charge of teaching at Lung Pu Ethnic Minority Semi-Boarding High School and Secondary School said: "After about a month of implementation, the students have gradually improved. marked progress. The initial difficulty in reading the vocabulary is gone. The basic conversations they have mastered, the grammar is also quite well understood by many students even though they have not learned English much. Now, near the end of the first semester, the students are more bold, reading, and pronouncing better, and many of them are even able to converse and introduce themselves."
Ms. Nguyen Thi Minh Tam, Principal of Giang Chu Phin Ethnic Minority Semi-Boarding High School, said that Marie Curie's help is very meaningful. Online learning is something that could not be done before even if we wanted to. Students who were very shy in the past are the ones who are most interested in this form of online learning. Many boundaries have been removed," Ms. Tam said.
According to Ms. Tam, students not only get to know more about information technology through online learning, but also many side lessons (general knowledge, life skills/survival skills). teacher from Hanoi shared. "Teachers in the lowlands consider it as gifts to their dear students here. Because, Ha Giang in them is a land that is both far away and close, where there is majestic nature and warm hearts, is the first land of the country that everyone wants to visit once, "Ms. emotional told.
In particular, also from this project, many teachers of Meo Vac honestly confided, before that they did not fully understand the English alphabet or how to read numbers, now through lessons with students, many teachers like being "blinded foreign languages". Thanks to digital transformation, a school in Hanoi was able to "rescue" an entire upland district. From where there is only one teacher, now Meo Vac students are not only taught enough programs, but the quality of the foreign language lessons of Meo Vac students is also extremely "genuine" making other districts jealous.
Thanh Hung
(Posted in the Vietnam Post newspaper, issue of Xuan Quy Mao 2023)