Sống đẹp
The girl wanted to buy a teddy bear but couldn't afford it, so surprised when she returned to the store 10 years later
Ten years ago, a 13-year-old girl in Shaanxi province (China) looked at a toy store near the school and fell in love with the brown teddy bear in it. However, the little girl did not have enough money to buy the bear for 25 yuan (VND 85,000).
At that time, her entire "asset" was only 5 yuan (17,000 VND). The girl gave the money to the shop owner, begged him to accept it, and promised that within two weeks, she would bring the 20 yuan to buy a teddy bear.
However, 2 weeks have passed and the poor girl still does not have 20 yuan. The girl was ashamed of breaking her promise, so she did not dare to return to the store since then.
A little girl really liked the teddy bear in the store but couldn't afford to buy it. Image credit: Shutterstock.
Time goes by, it's been 10 years. Then a few days ago, this little girl – now a 23-year-old girl – happened to pass by the old store. She suddenly remembered her childhood hobby and decided to turn in.
This girl was surprised because the store owner still remembers her and has kept the brown teddy bear separately for the past decade.
"Why did it take you so long to come back?" asked the shop owner.
The teddy bear after 10 years has faded and is a bit worn, because the owner said that his niece sometimes takes it out to play. But overall, the bear still looks very clean.
The owner said that he normally does not accept a "deposit", but 10 years ago, he saw that the girl loved the teddy bear so he agreed to keep the bear. And now, he gave it to the girl, not taking any more money.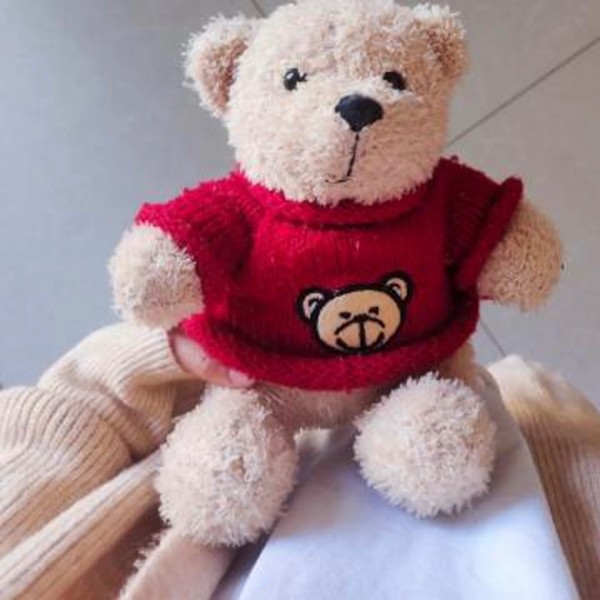 The store owner kept the teddy bear for a decade. Photo: Weibo.
"I couldn't stop crying when I saw the teddy bear. No words can describe how I felt at that time," the girl said.
This story was told by the girl herself – nicknamed Naifennaifenfen – and made netizens in China extremely emotional. The story has been shared more than 100,000 times and received tens of thousands of comments. Netizens write:
"The shop owner is so kind. Not only did he keep the teddy bear, he kept his entire childhood."
"Perhaps the teddy bear also wants to wait for the girl to come back."
"A story like a novel, the teddy bear will be one of her best memories."
The girl finally received the teddy bear. Illustration: EE.
That's it, in this life, there are always many miracles created by human kindness.
You are reading the article
The girl wanted to buy a teddy bear but couldn't afford it, so surprised when she returned to the store 10 years later

at
Thuvienpc.com
– Source:
Soha.vn
– Read the original article
here