The emotional reason why the 55-year-old Korean ran through Vietnam
At 8 am on January 1, Mr. Kim began his journey. run From Ca Mau to Hanoi. On his personal Facebook, he shared: "Happy New Year. I am in Ca Mau, Vietnam. I am about to take a path that I have never taken in my life. This will be a difficult and possibly painful time, but I have to go."
After 70 days, Kim has covered 2,358 km. Arriving in Hanoi on March 11, he spent 5 days resting. After that, he made the journey to run back to Ca Mau because he wanted to surpass his limit and end the journey where he started.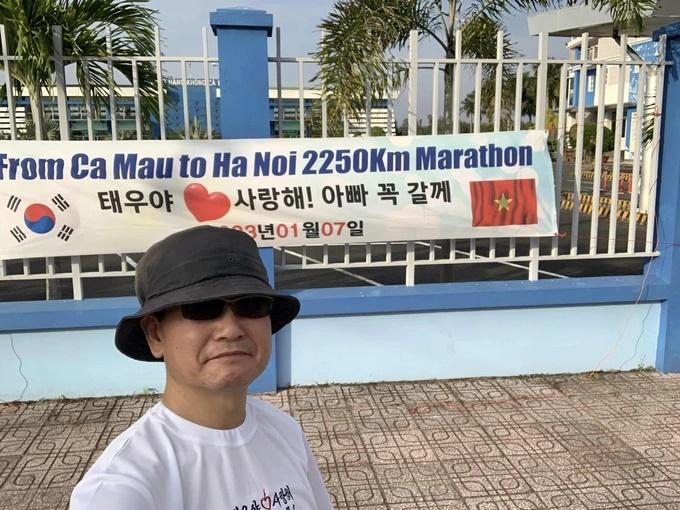 Mr. Kim hung a banner with the words, "Son, I love you. I will definitely go," on December 31, 2022 in Ca Mau (Photo: Courtesy of character).
Run for you, for your son, for the nation
The 55-year-old is an investor from Busan, South Korea. Last June, he had the opportunity to travel to Vietnam. Thanks to that, he got a chance to look closely at the map of Vietnam and see that it resembles the Korean peninsula (including the Democratic People's Republic of Korea and Korea, which has been divided since World War II).
"According to the map of the Korean peninsula and the territory of Vietnam from south to north, the city of Mokpo located in the southwest of South Korea is similar to the location of Ca Mau. Similarly, the location of Busan is similar to the Ho Chi Minh City Seoul city is close to the location of Da Nang.
Below, the capital Chongjin, Hamgyong Province (North Korea) in the north resembles Hanoi. At this time, I can't run to Hamgyong, but Vietnam is a free country, I can run from Ca Mau to Hanoi with the desire to unify the country."shared Mr. Kim.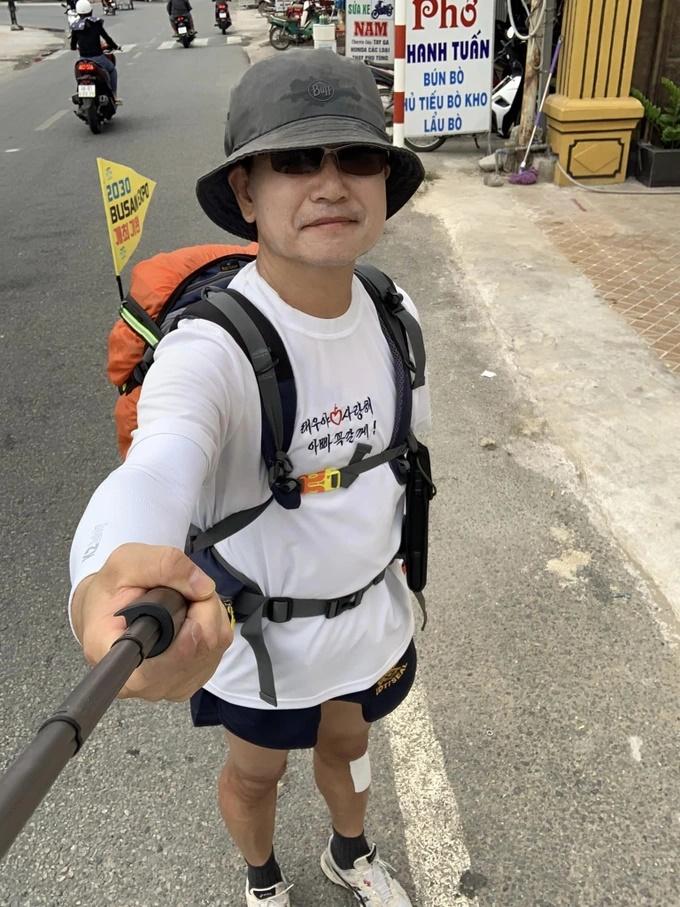 In the first days, the weight of the backpack, the weather, the terrain… challenged Mr. Kim's resistance (Photo: Provided by the character).
Another reason is that Mr. Kim wants to run for his 13-year-old son. He confided to me that he had never shown his son the image of a proud father. Wanting to be such a father, he thought of what was best.
"As an amateur marathon runner for 20 years, I made a plan to run through Vietnam," he said.
His luggage was initially a backpack of almost 20 kg with personal belongings, medicines, sunscreen…
But on the third day, Mr. Kim had thrown away some items due to excruciating pain in his shoulder and leg. The backpack strap broke up to 3 times. Therefore, that day he ran only 20 km.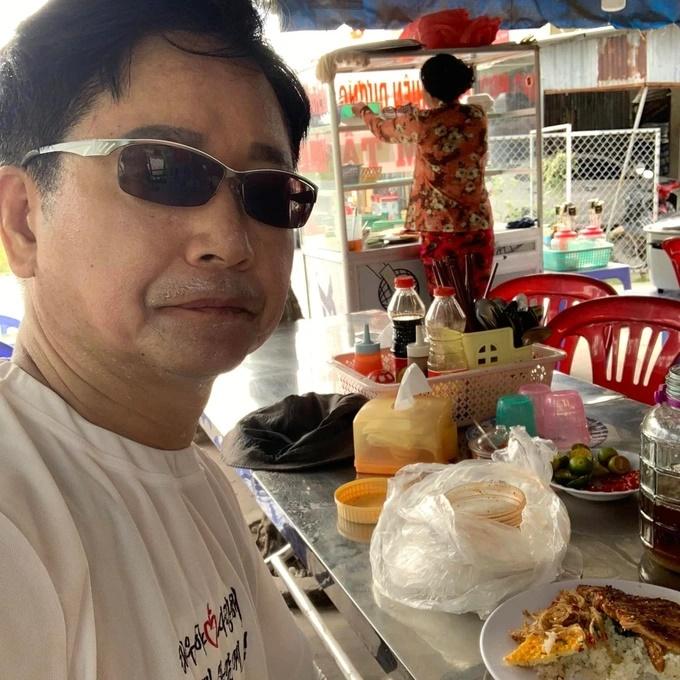 Going around the big city, Mr. Kim easily found a place to eat and a hotel. Going to the field, one day he had to run with excruciating hunger (Photo: courtesy of the character).
Mr. Kim shared that he was challenged with the marathon, so he did not spend a lot of time exploring Vietnam touristically.. "But wherever you go, there are wonderful natural settings," he shared.
On the way, the scene that reminded the man the most was when he stood on the top of Hai Van Pass, the natural boundary between Da Nang and Hue, to admire the beautiful scenery. However, that was also the day that Mr. Kim ran the longest distance, almost 62 km.
He said that there were days when he was hungry and exhausted because he could not find a place to sell food and there were no houses on either side of the road. However, the man still tried to run without the help of passing traffic.
"I can eat anything on the way to fill me up and sleep anywhere if I'm tired," she said. he said.

Mr. Kim planted a small flag on his backpack with the message: May the World Expo be held in Busan, South Korea in 2030 (Photo: courtesy of the person).
As of February 10, Mr. Kim decided to start at 6 am, running more than 40 km/day to shorten the time to the finish line. Therefore, the journey was expected to take 90 days, but he completed it in only 70 days.
The man revealed that before doing this marathon, he had 4 months of Vietnamese self-study online.
In addition to the basic communication sentences, he also learned more sentences: "Give me a discount". Thanks to that, he once successfully negotiated a raincoat from VND 30,000 to VND 20,000 or saved VND 50,000 on hotel rent.
The erratic rainy weather in Vietnam made it difficult for Mr. Kim many times. He just put on a raincoat and you ran for 10 minutes when the sun came up and it was really hot. Fearing that there might be a second rain, he kept running for a while and as a result, sweat poured out like rain.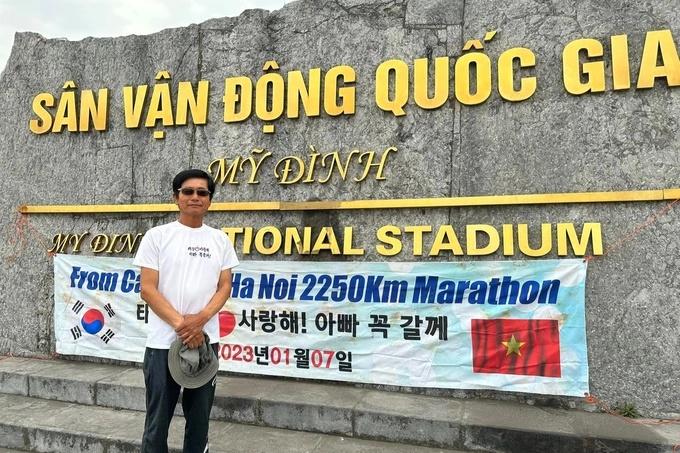 When he arrived in Hanoi, Mr. Kim shared that he had covered 2,358 km instead of the originally planned 2,250 km (Photo: Provided by character)
"Thank you Viet Nam"
However, its 2,358 km from Ca Mau to Hanoi is only half the way. Mr. Kim wants to conquer one more opposite direction, the destination will be where he started.
He shared that he was very happy and grateful to the Vietnamese who met him and helped him along the way. The joy would be doubled when he could see them again in turn. There were people who gave him 10,000 dong to buy water, cakes, soft drinks and even fruit.
"A boy of about 12 ran up to me and gave me a soda and yelled 'do your best' and walked away. So even though my body ached, my heart was happy."shared Mr. Kim.
Many times when the children gave him money, Mr. Kim wondered if he should take it. That money is not necessarily earned by the children themselves, why would that "young heart" dare to give it away? The man felt strangely excited. In the end, he decided to take the money and then took out his phone to take a photo of the boy who got into the car, turned his back on him and pedaled for a while.
"Vietnamese love has encouraged me. I will continue," Mr. Kim said.
After 5 days resting with long dreams in the hotel and meeting some friends, Mr. Kim went jogging to Ca Mau on the morning of March 16. On average, he covers 30 km every day in about 10 hours. It is expected that upon entering Ca Mau he will have to overcome 4,720km.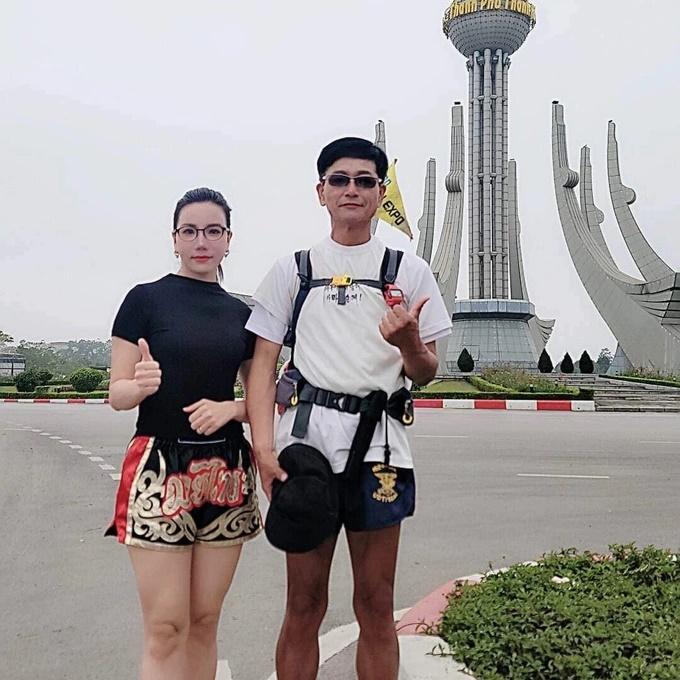 Ms. Hong took a photo with Mr. Kim after running with him for about 5 km on the morning of March 21. (Photo: Phuong Hong)
On the morning of March 21, Nguyen Phuong Hong, 38, from Thanh Hoa City, heard that Mr. Kim was about to run past, so he invited his friends to pick him up and run with him for a while. time to cheer him up. above.
Hong's husband is Korean, so she invited Mr. Kim to play at her house. Learning that she had leg pain and insomnia, she gave him pain relief patches and supplements to supplement the nutrients when she saw him eating irregularly.
In addition to admiration, the woman who has lived in Korea for more than 10 years was also very excited when she chose Vietnam to carry out her significant life journey.
"For the past 70 days, he was only able to call his son when he returned to the hotel because he did not use a Vietnamese phone SIM card to access the network. Therefore, I gave him a SIM card, registered a package for Mr. Kim could go online, call me anytime", Hong shared.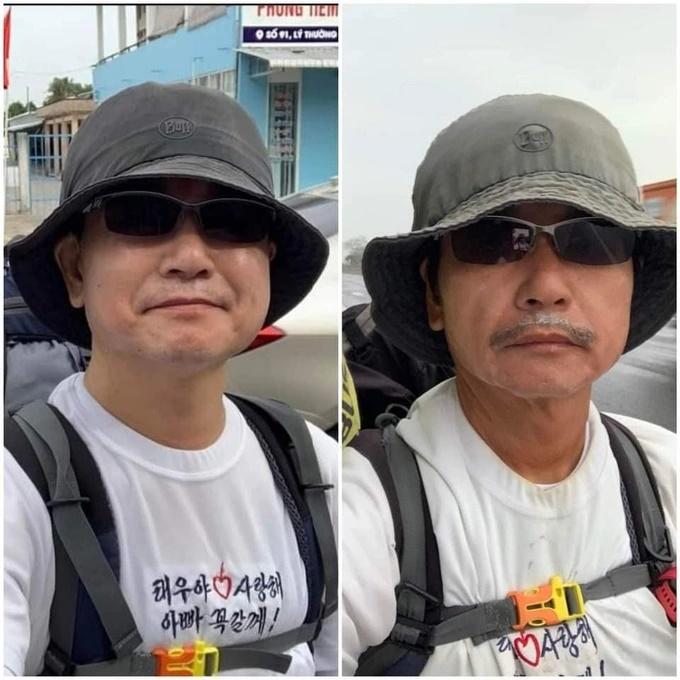 Mr. Kim before and after running 2358km (Photo: courtesy of the character).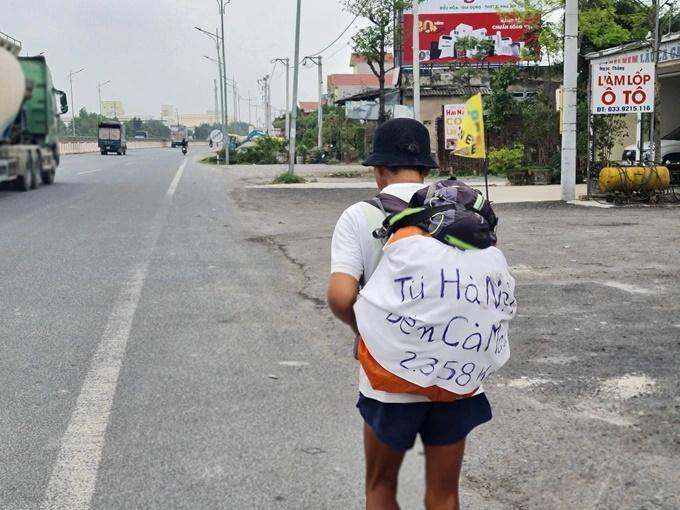 The man returns to the old ways to meet the goal of ending up at the starting point of Ca Mau (Photo: courtesy of the character).
Mr. Kim confided that he did not follow any religion. But with all the emotion of a foreigner who came here to run, he would always put his hands together and greet the Vietnamese for helping him in so many things.
"I know that having a generous heart is rooted in Vietnamese national sentiment," Kim shared and said that after finishing the trip, she would fly back to Korea to meet her son right away.
With this challenge, Mr. Kim lost 20kg from 74kg to 55kg. The man learned this when he saw a scale at the rest stop and asked permission to use it.
Mr. Kim shared that he never intended to give up. He sometimes wondered why do this hard work?
Thinking of his 13-year-old son, he said to himself: "I'll have the answer at the end of the road. The path I've walked has never been painless. But now I'm always happy because I'm still breathing."
According to Dan Tri