World
Terrible earthquakes in Turkey and Syria; Ukraine pushes EU to cross 'red lines'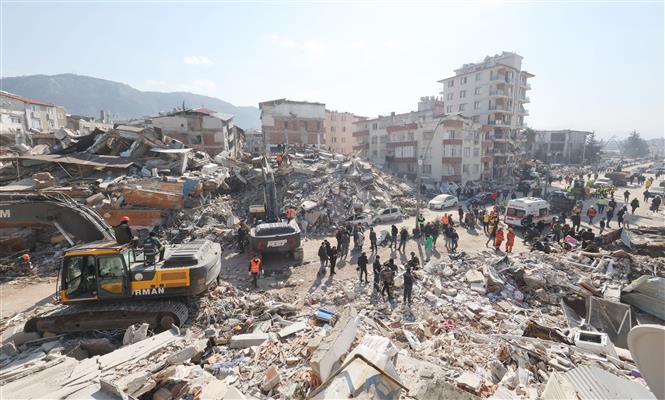 SThe death toll exceeds 25,000 people, making relief operations difficult
International support continued to focus on parts of Turkey and Syria, where rescuers struggled to rescue victims from the rubble in damaged areas, according to AFP news agency. devastated by a terrible earthquake that has killed more than 25,000 people so far.
The winter freeze in the affected areas has hampered rescue efforts and exacerbated the loss of millions of people, many of whom are in dire need of assistance.
The United Nations (UN) has warned that at least 870,000 people are in urgent need of food in two countries after the earthquake, which left 5.3 million people homeless in Syria alone. Aftershocks following the 7.8 magnitude earthquake on February 6 added to the death toll and upended the lives of survivors.
Fidan Turan, a pensioner in Antakya, a city in southern Turkey, said: "When I see destroyed buildings and bodies, I don't know where I will be in two or three years. I have lost 60 members of my extended family."
The UN World Food Program has now called for $77 million to provide rations for at least 590,000 newly displaced people in Turkey and 284,000 in Syria. Of those, 545,000 were internally displaced and 45,000 were displaced.
The UN human rights office on Monday called on all parties in the affected area – where Kurdish fighters and Syrian rebels operate – to allow humanitarian access.
The Kurdistan Workers' Party, considered a terrorist group by Ankara and its Western allies, has announced a halt to fighting to deal with the aftermath of the earthquake.
In rebel-held northwestern Syria, about 4 million people live on humanitarian aid but have had no aid from government-controlled areas for three weeks. The Syrian government said it had approved the provision of humanitarian assistance to earthquake-stricken areas beyond its control.
Only two aid convoys crossed the border this week from Turkey, where authorities are engaged in an earthquake relief operation even larger than the conflict itself.
A decade of civil war and aerial bombardment in Syria have destroyed hospitals and caused electricity and water shortages.
UN Under-Secretary-General for Humanitarian Affairs Martin Griffiths on February 11 described the recent devastating earthquake in southern Turkey and northwestern Syria as "the worst event in more than 100 years in the region". this area".
For his part, UN Secretary-General Antonio Guterres called on the Security Council to allow the opening of new cross-border humanitarian aid points between Turkey and Syria. The Security Council will meet to discuss Syria, possibly as early as next week.
"The tragedy unfolding in Turkey and Syria this week is a time when we must all come together to support those affected," UN Secretary-General Guterres said, calling for "political differences". must be set aside".
Turkey says it is working to open two new routes into rebel-held areas in Syria.
Freezing winters have left thousands of people overnight in cars or surrounded by makeshift bonfires that have become common throughout the quake-ravaged region. Turkish officials said more than 12,000 buildings were destroyed or severely damaged in the quake.
Mustafa Erdik, a professor at Istanbul-based Bogazici University, said: "The floors are stacked on top of each other, which means the chances of finding survivors are slim."
Ukraine's president urges Europe to support fighter jets
Over the past week, Ukrainian President Volodymyr Zelensky has visited Britain, France and EU headquarters in Brussels with the aim of calling for fighter aircraft support.
During a surprise visit to London on February 8, Mr Zelensky told British politicians that Ukraine was "asking wings for freedom".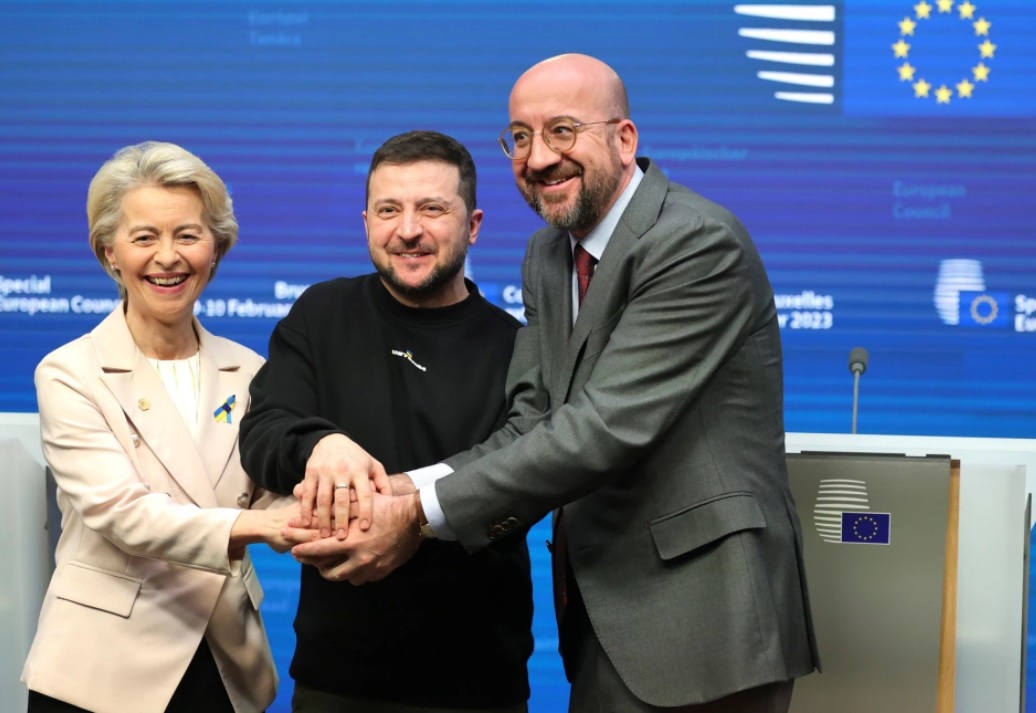 "I appeal to you and the world in the simplest but most important words: fighter for Ukraine, wings for freedom. Two years ago, I thanked you for delicious British tea. Today I will thank you all in advance for the powerful British planes," he said in a speech in London.
During the visit, Prime Minister Rishi Sunak said Britain's training program for Ukrainian servicemen would be expanded to include fighter pilots for the first time. According to British officials, the program will "ensure pilots can fly modern NATO-standard fighters in the future".
Britain, along with the US, has previously refused to supply Ukraine with Western F-16, F-35 and Typhoon fighter jets, which many analysts see as a "red line" for supporters. international Ukraine.
A UK Government spokesman last month said the fighters were "extremely sophisticated" "taking months to learn how to operate" and therefore getting those planes to Kiev was " unrealistic". The UK does not use the F-16 jets that Ukraine mentioned before, but does have F-35s and Typhoons.
But on Monday, Mr. Sunak said "there is nothing that cannot be discussed" and that advanced fighter jets were "part of the meeting". A spokesman for the British Prime Minister said that British Defense Secretary Ben Wallace was "actively considering" options around fighter jets for Ukraine.
"We are assessing what kind of jets we can supply, but emphasize the long-term nature of the training involved in this complex issue," the British official said.
Reacting to the issue, the Russian Embassy in London said Moscow "will know how to respond to any unfriendly actions of the British side", warning that the supply of fighter jets would be "a disaster". British escalation".
Arriving in Paris later that evening to meet French President Emmanuel Macron and German Chancellor Olaf Scholz, Mr Zelensky said the two European nations had a chance to be "game changers".
"As long as Russia continues to attack, we will continue to adjust and moderate the military support necessary to defend Ukraine," Macron told the Ukrainian leader.
In Brussels, EU leaders on February 9 convened a summit where, for the first time, Ukrainian President Zelensky was directly involved. European Parliament President Roberta Metsola told Mr Zelensky that EU member states "must quickly consider the next step of providing the jet and long-range systems that Kiev needs to protect its right to freedom." by his own".
Even so, the EU ultimately did not commit to providing fighter jets to Kiev. In addition, Brussels has announced plans to impose additional sanctions on Moscow on the one-year anniversary of Russia's special military operation in Ukraine.
"I think some EU member states could agree to send fighter jets individually, but I think it's unlikely that there will be any collective agreement, at least soon," said German European MP Gunnar Beck told Izvestia (Russia). Mr. Beck explained that there is no legal basis for that in EU treaties, while external defense and security matters remain the prerogative of member states.
For his part, Valdai Discussion Club Program Director Oleg Barabanov argues that the decision to aid the fighters will be made anyway, even if it does not take place at this summit. Discussions are likely to continue at a meeting of NATO defense ministers in Brussels on February 14-15.
According to Bruno Lete, a senior fellow at the German Marshall Fund, there is a high possibility that Western countries will send fighter jets to Ukraine, including Germany.
In a statement quoted by DW, this expert said that this is not the first time that the West crossed a "red line" in supplying weapons to Ukraine, and mentioned sending Leopard 2 and tank tanks. preceded by high mobility multiple launch rocket launchers (HIMARS).
Mr. Lete said that Germany also looked to the US to make decisions about supplying tanks to Ukraine. "If the US agrees to send fighter jets to Ukraine, I think Germany will also join."
You are reading the article
Terrible earthquakes in Turkey and Syria; Ukraine pushes EU to cross 'red lines'

at
Thuvienpc.com
– Source:
Baotintuc.vn
– Read the original article
here