Technology
Security expert Ngo Minh Hieu was honored by the US network operator
Verizon (USA) has just honored security expert Ngo Minh Hieu (Hieu PC) of Vietnam. Accordingly, a certificate was sent to this expert by Verizon to thank Hieu PC for his contribution in helping Verizon successfully detect and fix some security vulnerabilities.
"We appreciate your efforts in providing vulnerability reporting. Our team welcomes this and is committed to preserving the environment at Verizon." Verizon's Enterprise Vulnerability Management Response Team shared.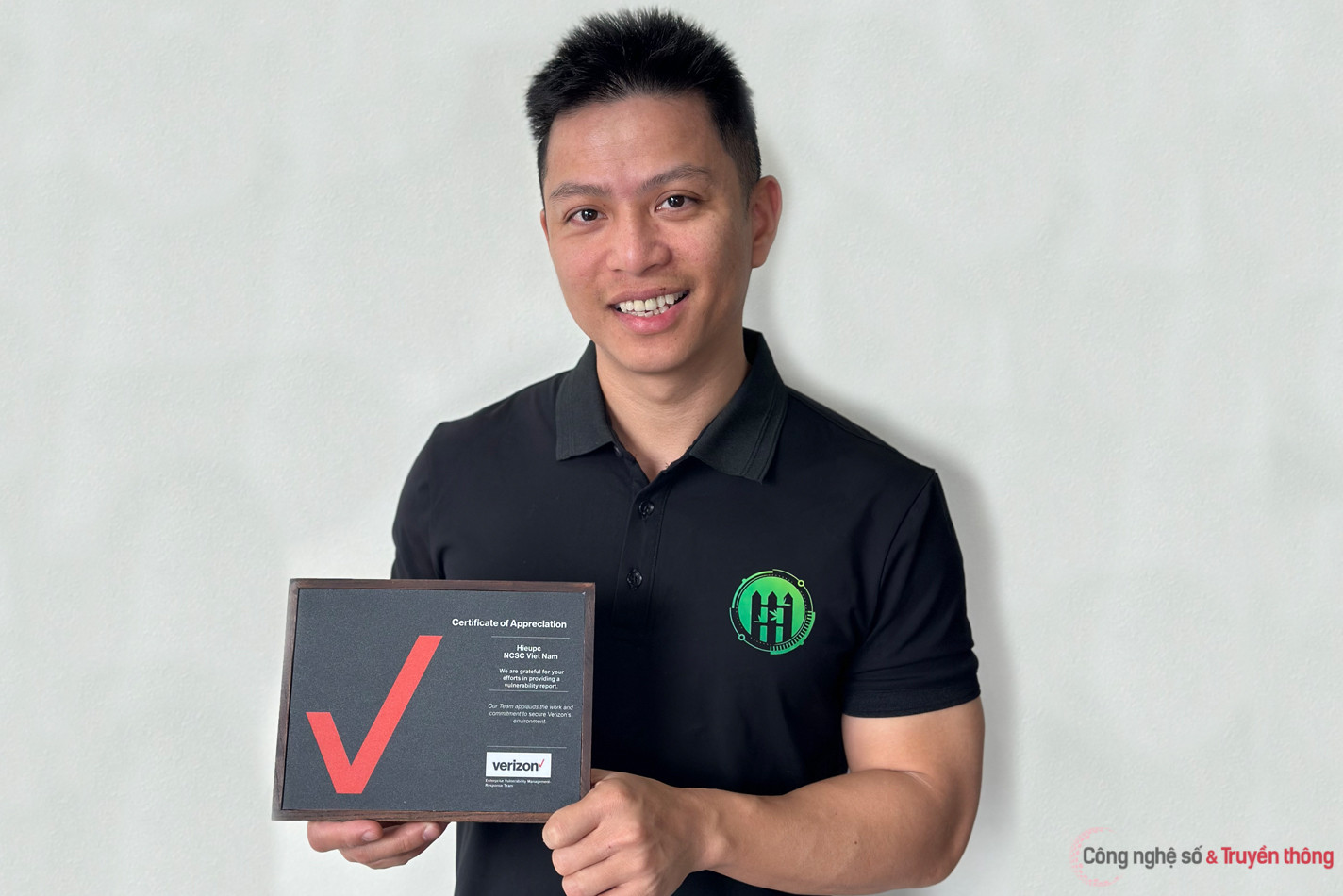 Hieu PC (or Hieupc) real name is Ngo Minh Hieu. He was once known as a hacker, when he was behind one of the largest systems of selling user identities that ever existed.
After a period of atonement in the US, Hieu PC returned home and became a cyber security specialist and digital investigator at the Vietnam Information Security Monitoring Center (NCSC). He is also one of the founders of the non-profit Anti-Phishing project to protect users from the risks of online fraud.
This is not the first time that security expert Ngo Minh Hieu has been honored by American technology giants. In 2022, Ngo Minh Hieu was once named by Apple in the list of security experts who have contributed to this company.
Sharing with VietNamNet, Ngo Minh Hieu said that Verizon thanked him because he found 2 vulnerabilities affecting data and 2 bugs related to this network's web management system.
"I regularly scan both public and private servers of major technology firms for security flaws. For a white-hat hacker, this activity is both training, improving skills, challenging yourself, and sometimes earning bonuses."Ngo Minh Hieu said.
According to the expert, large systems always have holes. If exploited by hackers, these security holes can be used for malicious purposes. With a large carrier like Verizon, this can affect a lot of users, especially turning business services into tools for fraud.
To avoid becoming a victim of cybercrime, businesses should regularly review and strengthen their security capabilities and maintain a team of highly qualified cybersecurity personnel.
Domestic agencies, organizations and businesses can follow the example of foreign technology giants, and often have many "bug bounty" programs to honor white hat hackers to encourage them to find vulnerabilities. In Vietnam, some businesses like Coc Coc or PA Vietnam do very well.
White hat hackers can also actively participate in testing the systems of large corporations and report them if they find vulnerabilities, while helping to improve skills, gain more income and recruitment opportunities.