Tin ICT
Open registration for Data Center & Cloud Infrastructure Summit 2023
Along with the shift of technology, the trend of using data center and cloud computing services is growing strongly in Vietnam in recent years.
The growth potential of the cloud computing market is still very large. According to Future Market Insights' Hypercycle, from now to 2031, the world will be in the "Rimming Stage", the "Decreasing Stage" has not been identified, and the APAC region will only be in the "Decline Phase" development phase".
In 2023, according to Frost & Sullivan's analysis, the APAC region will grow by 30%, of which Vietnam is among the leaders in Southeast Asia in terms of growth.
Sectors ranging from banking and finance, telecommunications, information technology, retail and consumption to digital content are increasingly promoting the use of data center and cloud computing services to optimize processes. workflow, increase customer experience…
Digital transformation is no longer a new concept in Vietnam, in fact, up to 92% of businesses today have interested or applied digital transformation to a certain extent, but many of these businesses encountered difficulties in the implementation process, even struggling in that journey, leading to time loss or expense.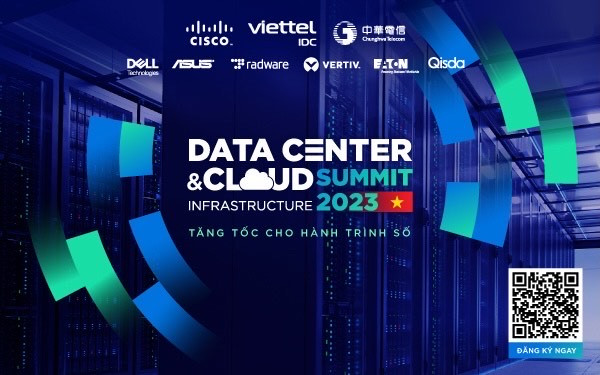 In order to bring solutions to help businesses accelerate and find answers for the digital transformation journey, Viettel IDC and strategic partners CHT, Asus, Eaton, Vertiv, Radware, Arista… invite customers and partners attending Data Center & Cloud Infrastructure Summit 2023: Accelerating the digital journey.
– Time: 8:30 a.m. – 12 p.m., Monday, March 6, 2023
– Location: JW Marriott Hanoi Hotel (No. 8 Do Duc Duc, Nam Tu Liem District, Hanoi City)
Let's listen to the sharing of leading experts in data center and cloud computing at home and abroad, as well as open up business networking opportunities with more than 1000 guests from domestic and international businesses and organizations. foreign.
The conference will discuss the Data Center and Cloud Computing market in Vietnam, future orientation, new technology trends and practical solutions suitable to current problems of enterprises in Vietnam. 4 thematic sessions with interesting contents: Data Center Room – Data Center Session, Cloud Room – Cloud Computing Session, DX Room – Digital Transformation Session and Health Tech Room – Medical Technology Session economic.
Register to attend Data Center & Cloud Infrastructure Summit 2023 at: https://dccisummit.viettelidc.com.vn/dang-ky-tham-du/
Doan Phong