More than 1,800 people have had successful robotic surgery at Binh Dan Hospital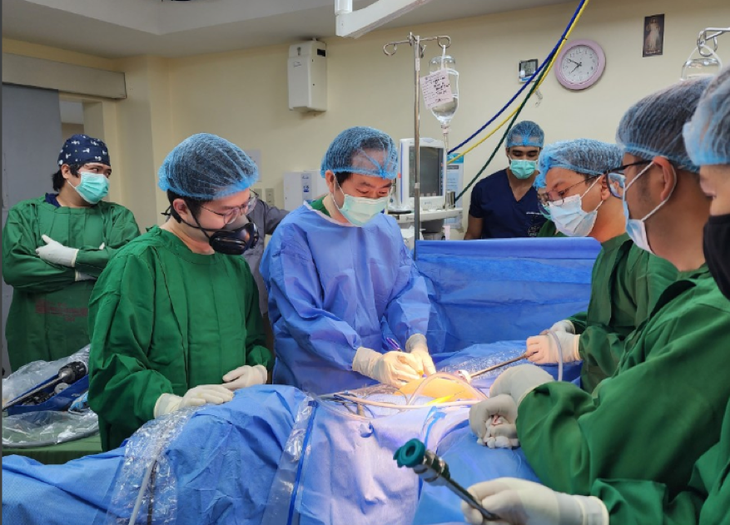 On April 15, Binh Dan Hospital (HCMC) held a conference Science and Technology The conference 20. The conference was attended by 26 experts who are surgeons of many specialties from the US, UK, Germany, France… and about 150 national reporters.
Mr. Tang Chi Thuong, director of the Ho Chi Minh City Health Department, said Binh Dan Hospital is the cradle of specialized surgery in Ho Chi Minh City as well as in the southern provinces.
The Department of Health highly values ​​this scientific event. This is a scientific event organized on the scale of specialized regional conferences, with more than 250 specialized and quality scientific reports.
With the theme "Connecting international surgical experts", the conference affirms the strength in expanding the treatment capacity and, at the same time, establishes a relationship of cooperation and exchange of experience with international experts.
Reporting at the conference, Mr. Tran Vinh Hung, Director of Binh Dan Hospital (HCMC), said that after 6 years (2016-2022) the implementation robotic surgerythe number of patients operated on in the hospital was 1,804, an increase of 1.67 times.
Robotic surgery in this hospital is applied more in pelvic surgery, and mainly for the oncology group.
In which, rectal cancer and prostate cancer are the two diseases with the highest growth rate when using surgical robots year after year.
According to Mr. Hung, at the end of 2016, robotic surgery at the hospital was performed on 5 diseases: rectal cancer, colon cancer, prostate cancer, kidney tumor, and genital prolapse. However, just 3 years later, robotic surgery has been performed in 14 pathologies.
"This shows enormous potential for robotic surgery," said Mr Hung.
Mr. Hung also added that robotic surgery has developed rapidly in Vietnam, but it is very modest compared to other regions of the world.
At Binh Dan Hospital, the robotic surgery rate accounts for only about 2% of the total number of surgical cases in the hospital.
The reason is that the hospital only has one surgical system (American-made Da Vinci robotic system), max 2 cases/day, so the percentage of patients who can access this method is not much.
According to Mr. Hung, robotic surgery has many advantages compared to endoscopic surgery Traditional: Camera magnified up to 12 times, foldable and stretchable robotic tools, active anti-vibration technology to help surgeons operate well in tight spaces.
"The trend of robotic surgery is increasing at Binh Dan Hospital. Therefore, the application potential of robotic surgery is very great to treat malignant and benign diseases for Vietnamese people," added Mr. Hung.
You are reading the article
More than 1,800 people have had successful robotic surgery at Binh Dan Hospital
at thuvienpc.com – Source: tuoitre.vn – Read the original article here