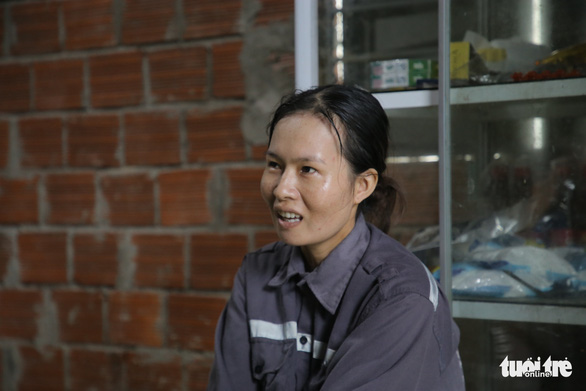 Ms. Nguyen Thi Tuyen – Photo: TRAN MAI
As for poor worker Nguyen Thi Tuyen (32 years old, ward 4, Dong Ha city), she returned the gold she picked up to Mr. An because it was not hers. "Be hungry to clean, tear to smell. That's what I definitely have to do," Ms. Tuyen said.
And then that poor woman received more from her own honesty.
I think there is only one person in a thousand people
It's been more than a month, but Mr. An still can't forget it. That dark-skinned man still remembers the exact day he lost his bag, inside there were 7.5 gold threads.
"It was 11-11, I came back home from Lao Bao town (Huong Hoa district, Quang Tri) to prepare for my son's wedding. That gold was my husband and I amassed as a dowry for our children." , Mr. An said.
That day, to go home to take care of the big business, his wife took a bus, and An rode a motorbike, which he carefully tied behind the saddle. On the journey of nearly a hundred kilometers from the border gate to Dong Ha city, many times he stopped the car carefully and tied the rope. But at about 1 pm, when he was close to Dong Ha city, when he crossed the road to avoid, he dodged some trucks, the belt of his bag came off at any time.
"When I got home, I discovered that the bag was no longer there, guessed it was in the section passing through Cam Lo district. I went back to look for it and asked people if anyone had picked it up, but no one found it," Mr. An said. .
An said that the couple was old and did not have a stable job, so they had to go from Dong Ha city to Lao Bao border gate to make a living. He and his wife got up late at night with a restaurant on the border. Many years of holding back, accumulating, preparing when I get married, bringing gold as a gift. During the whole journey in joy, Mr. An suddenly became sad because of carelessness.
Unable to find it, he returned home and sighed and did not know where to find the "dowry" for his son. When hopeless, relatives encouraged, one son said: "Or let me post on Facebook to see if anyone has picked it up, maybe someone good they will return it".
An's feelings at that time were hopeless, he thought it was just a reassuring gesture of his children. There is only one thing that he can ease his heartache is that after many years of selling restaurants, picking up customers' phones and wallets, he keeps them and returns them.
Thinking about that, he glimmered a little hope. Although he himself knew that when he picked up a small amount of money, "wrestling" with rising greed was not an easy task. Talking about the amount of gold he lost calculated more than 40 million.
His son posted the story of his lost bag on Facebook, many people shared it, but hours passed with no response. When he accepted to lose the gold, focused on organizing the wedding, suddenly the phone rang.
On the other end of the line, a female voice said: "I have found a bag, there is gold, come to my house to see if it is not," Mr. An said.
Like a drowning man grabbing a lifebuoy. At 19:00, Mr. An followed the address to find his house and immediately recognized his bag and gold. In joy is admiration when looking at the benefactor's small, bare brick house.
"Later I heard that when Ms. Tuyen picked up the gold, someone said she kept it and repaired the house. But she didn't do that and still tried to give it back. I really admire her kind heart. Thousands of new people. there is such a person," An said.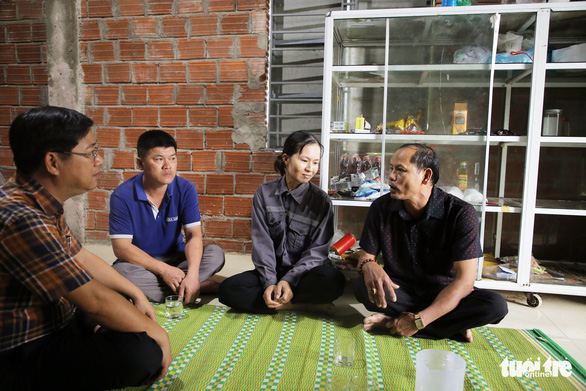 Mr. An (right) is very appreciative and cherishes Ms. Tuyen's heart. For more than a month, he still thinks and admires Ms. Tuyen – Photo: TRAN MAI
Kindness continues
Ms. Tuyen is a worker at Cam Lo Energy Pellet Factory, belonging to Quang Tri Trading Corporation. Her family situation is difficult, her husband and children are often sick, often "go back and forth" to the hospital. Every day, she still tries to work, earn every penny to take care of, and carry the burden of her anchored home.
Life is poor, food and clothing must always be restrained, but her image in the eyes of everyone is very hardworking and honest. Therefore, those who knew her were not surprised when she returned what she had dropped. Even with a worker, working for a whole year, Ms. Tuyen could not accumulate such a large amount of money.
The day Ms. Tuyen picked up her bag, she was going to the company to work the afternoon shift when she came to the road through Cam Hieu commune (Cam Lo district) when she saw the bag dropped by the roadside. She stopped the car to pick up, checked that there were many clothes, inside there was a small bag containing gold necklaces and rings.
Knowing someone dropped it, she tried to return it. But that day was still busy at work, so she had to bring her bag to the company. She honestly told everyone at work and said that when she returned home in the afternoon, she would hand it over to the police to find the lost person and return it.
After finishing work, when she returned home, it was already dark, opened her phone to watch the news, and saw on Facebook that Mr. An had dropped his bag. The way she dropped it was similar to where she picked it up. Seeing the phone number attached, she called and reported that she had picked up a similar bag, the deceased person came to the house to see if it was not, then received it.
"At that time, I just thought that if I lost that gold, I would lose sleep and eat, so would the person who lost it. So since I picked it up, I just wanted to return it. It's not mine," said Ms. Tuyen honestly.
The young mother with that gentle smile from the day she returned the bag reluctantly became famous throughout Dong Ha. Many people have told her story and consider it a noble gesture. Tuyen was also very shy, deep down in her heart she didn't think it was a big deal. But like An said, overcoming greed is not easy.
Tuyen's honesty not only makes the happy day of the family more complete, but also sends the children's wedding day a lesson about honesty. "I think this story will teach them to live a decent life," An said.
Kindness is a cool wind, blowing peace into each other's souls. And surely in this world, there is nothing more sustainable than kindness. Ms. Tuyen gives her honesty and the leader of the company where she works has continued those gestures. Quang Tri Trading Corporation, upon hearing the story, immediately praised and rewarded Ms. Tuyen with 20 million VND.
As an employer, who is not happy when there is a person like Ms. Tuyen in the ranks. After the commendation, the company's leaders personally visited the house. Witnessing the difficult family situation and the rickety house of the honest worker, after words of encouragement, a loving decision was to support Ms. Tuyen in rebuilding a new, more spacious house. Quang Tri Trading Corporation wants to send a message of kindness, honesty and always receive bigger things in return.
Mr. Ho Xuan Hieu, Chairman of the Board of Directors of Quang Tri Trading Corporation, said: "What Ms. Tuyen does is very warm. I think what the company has done and is doing is worthy of her.
We were supposed to help build a house for her right away, but we couldn't make it at the end of the year. Over the years, the company coordinates the trade union and the family to calculate the cost of building a house. We want to continue the beautiful story she did."
An honest woman with a timid appearance was both appreciative and surprised. Do you ever think that the "small things" you do will be taken back to the house? That was beyond the young mother's mind. "I returned the property I found because it was the right thing to do. I was so surprised when the company praised and donated a house. I will tell my children about this loving home," Ms. Tuyen said.
You are reading the article
Kindness meet each other

at
Thuvienpc.com
– Source:
Soha.vn
– Read the original article
here