Sản phẩm
JBL reduces up to 36% on speaker and headset products during the Lunar New Year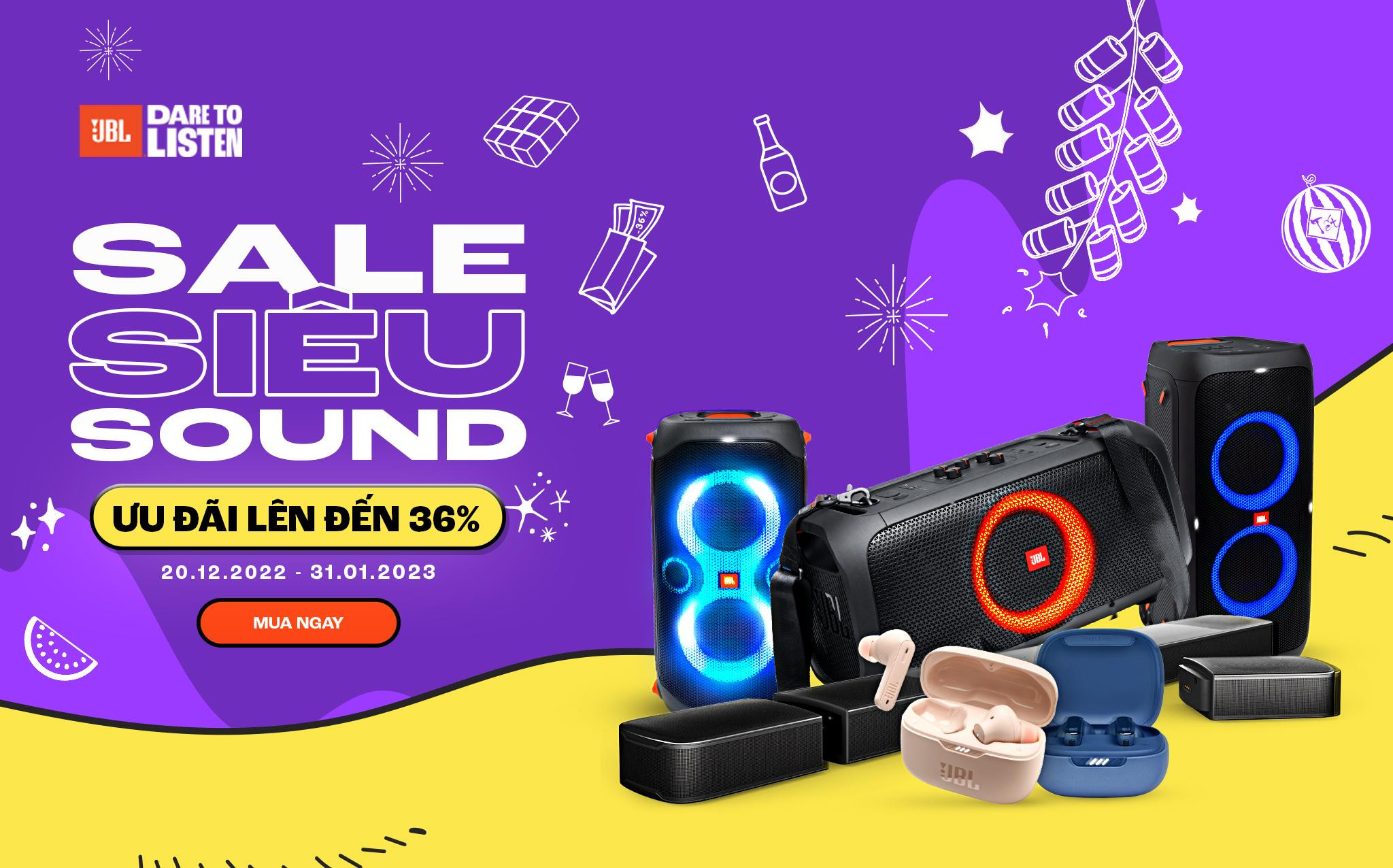 Buy PartyBox speakers, receive gifts up to 2,490,000 VND
Launched with three versions 310 capacity 240W, 110 capacity 160W and On The Go capacity 100W, PartyBox has been voted by many Vietnamese customers who love to sing as the best portable speaker worth buying.
Technology connoisseurs estimate that the core of PartyBox's value is its superiority when it integrates everything needed for singing parties: large capacity with top notch Pro Sound, presentation lighting. Synchronized audio performance, wireless mic with speaker (only available in PartyBox On The Go), access to playlists via bluetooth, USB, AUX or True wireless stereo…
Not only perfectly recreating a festive music party at home, PartyBox On The Go can also be carried gently on the shoulder thanks to its sturdy but equally smooth strap. PartyBox 110 and 310 are easy to move and arrange at the beach, swimming pool or lawn, playground… thanks to convenient handles and swivel legs. All three versions achieve "10 points" in terms of mobility and "stubborn" despite the weather with IPX4 water resistance. With a respectable battery life, continuously turned on for 6 hours, PartyBox can "carry" at least 2 karaoke sessions or exciting "dance parties" on Christmas and New Year's Eve for every family..
Special discount program up to 18% for these three versions respectively: JBL PartyBox On The Go (100W) only VND 6,990,000; JBL PartyBox 310 (240W) only 14,390,000 VND; JBL PartyBox 110 (160W) is only 10,990,000 VND. In addition, all are offered with JBL headphones or microphones or headphones, applicable from now until the end of January 31, 2023.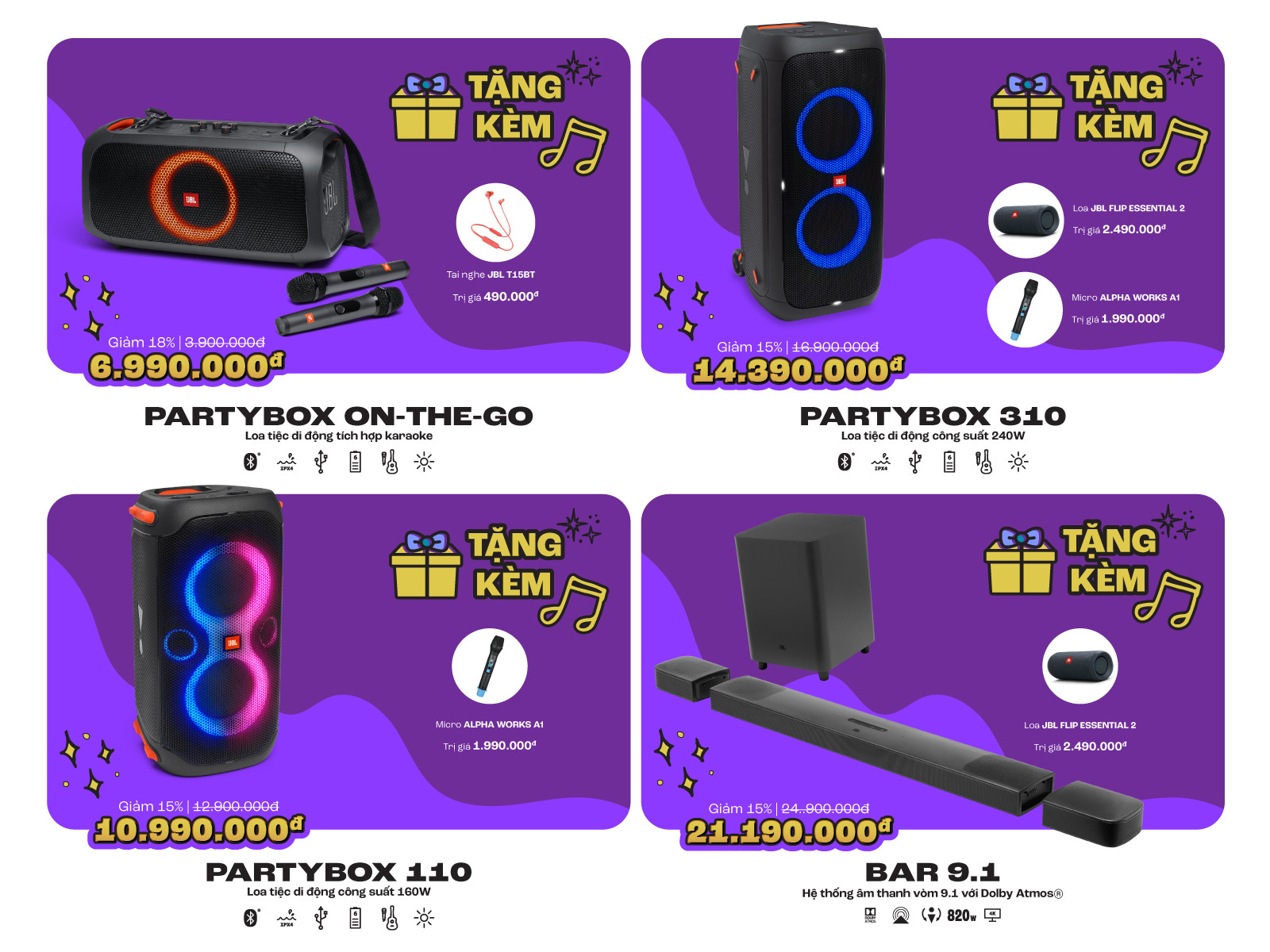 JBL Soundbar 9.1 15% off, free JBL Flip Essential speaker
The endless partying season of the year is often also the "chill-out" season, everyone's rest after a year of work. At this time, the soundbar version – the soundbar – like the JBL Bar 9.1 again caught the eye of movie enthusiasts as well as used to enjoy the games that were not crowded.
JBL's 9.1 soundbar brings the cinematic audio experience into your home with two detachable surround speakers and Dolby Atmos® and DTS:X™ 3D sound. With 820 watts of total system power, you can enjoy every Oscar-worthy performance through clear, powerful sound. You can also turn on the 10″ subwoofer for powerful bass, or turn it down and relax with Chromecast and AirPlay music streaming.In particular, the JBL Bar 9.1 soundbar creates a live sound duo. Dynamic when paired with a TV thanks to the 4K pass-through feature that supports Dolby Vision™ technology for incredible 4K video resolution.
JBL Soundbar 9.1 is being reduced to 3,710,000 VND, only 2,190,000 VND and comes with JBL Flip Essential speaker worth 2,490,000 VND until the end of January 31, 2023.
Super product noise canceling bluetooth headset with up to 36% deep reduction
JBL's two outstanding noise-cancelling headphones in 2022 – Tune 230NC and Live Pro 2 – are both heavily discounted from today until January 31, 2023. As soon as it was released, the Tune 230NC impressed with its remarkable battery life: 40 hours of music playing with JBL Pure Bass Sound. With "active noise cancellation" mode and "intelligent environment" technology, Tune 230NC allows owners to freely choose what they want to hear without missing the sounds of life. Tune 230NC's water-resistant ergonomic design gives you a comfortable all-day wearing experience, whether working, studying, playing outdoor sports or entertaining…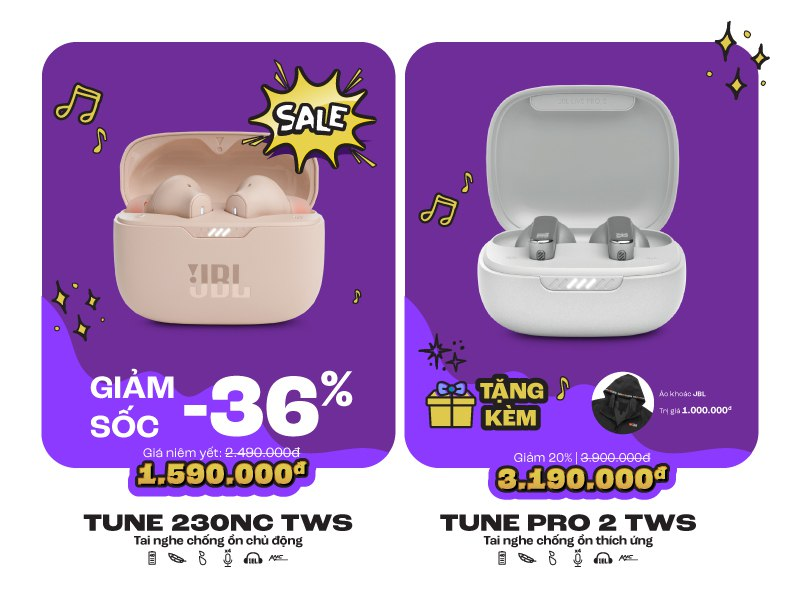 Believers who are inseparable from music can comfortably live in their favorite music all day long because Live Pro 2 TWS has both fast charging and wireless charging compatibility, which can play 40 hours of music continuously. 10 hours on ear + 30 hours charging case).
Live Pro 2 has an all-new adaptive noise cancellation feature that allows you to freely immerse yourself in your own universe without neglecting the world around you. Live Pro 2's Oval Tubes™ eartips and stick shape optimize music quality, enhance ear grip and noise cancellation for the most demanding users.
JBL Tune 230NC has the biggest drop, only VND 1,590,000 and Live Pro 2 is only VND 3,190,000. In particular, Live Pro 2 buyers also receive a JBL fashion jacket worth VND 1,000,000.
Promotion program at JBL product sales systems and official stores of JBL and PGI nationwide, refer to: https://bit.ly/T23ICTNews.
Quynh Anh