Technology
Google announces Bard tool, ChatGPT competitor
In the blog on February 7, Google CEO Sundar Pichai announced the Bard project. He describes it as an "experimental AI conversation service," capable of answering user questions and participating in chats. A group of "trusted testers" will be using Bard from today before it becomes more widely available to the public in the next few weeks.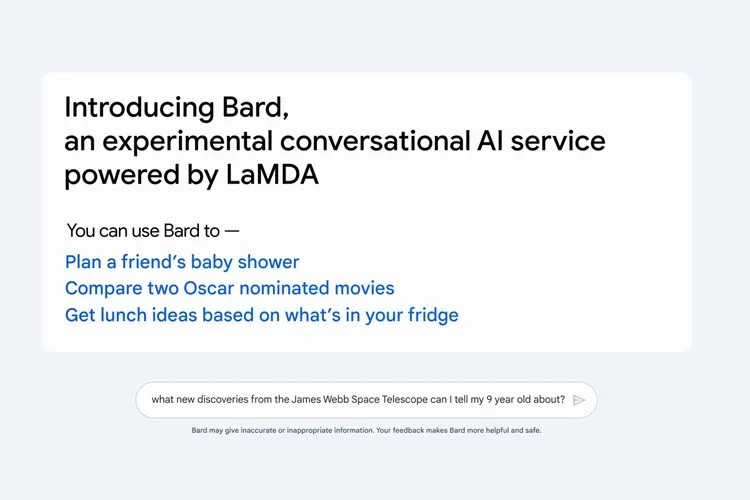 At the moment, it's unclear what exactly Bard's ability is, but it seems chatbots will be freestyle like OpenAI's ChatGPT. A screenshot encourages users to ask Bard practical questions like how to throw a kids party or how to prepare dishes from ingredients.
According to Pichai, the Bard can be "a vehicle for creativity, a launch pad for curiosity, helping to explain new discoveries from the James Web space telescope to a 9-year-old child or learn about money." The best football leader ever."
The Google CEO also noted that Bard collects information from the web to provide quality new feedback, suggesting Bard can respond to recent events, which ChatGPT have not done.
The Verge Comments, hasty announcements and lack of details about Bard are signs of a "red alert" at Google caused by ChatGPT. Although the technology behind ChatGPT is not revolutionary, OpenAI decided to give millions of people a chance to use it. The effect is amazing and ChatGPT "takes over" all social networking platforms, attracts attention and is also likened to a replacement for Google.
Microsoft has invested billions of dollars in OpenAI. The company did not pass up this opportunity as it prepared to integrate ChatGPT into the Bing search engine as well as the Office suite. Screenshots of a new version of Bing based on ChatGPT was leaked last week.
Umbrella Google With deep expertise in this type of AI, the company's approach is more conservative. Like other big tech companies, Google is worried about being opposed to introducing AI that has not been thoroughly tested. However, Bard marks a significant change in Google's strategy. In the blog, Pichai said Google will combine external feedback with internal testing to ensure Bard's feedback meets high standards of quality, safety, and authority.
Of course, this does not mean that Bard is immune to errors. Google will hold an event focusing on AI, search… on February 8.
(According to The Verge)