Blockchain
FTX CEO Sam Bankman – Fried was arrested by the Bahamas government
This morning (December 13, Vietnam time), many Western news sites reported that the Bahamas government had arrested former FTX CEO Sam Bankman-Fried. This Caribbean island country is home to the FTX cryptocurrency exchange.
The arrest warrant was issued by the Bahamas government after receiving information that the US had brought charges against Sam Bankman-Fried. Most likely this man will be required to be extradited to the US.
The Bahamas Attorney General's office released a statement saying it will detain Bankman-Fried until a formal extradition request is made.
In a statement, Bahamas Prime Minister Philip Davis said: "Bahamas and the United States have a common interest in holding accountable all individuals involved in FTX who may have betrayed the public trust. them and break the law. While the United States is pursuing criminal charges against Sam Bankman-Fried, the Bahamas will continue its own criminal and legal investigations into the collapse of FTX.
Most recently, the Prosecutor's Office for the Southern District of New York (USA) also confirmed information about the arrest of Sam Bankman-Fried at the request of the US government. Former billionaire Sam Bankman-Fried is expected to testify tomorrow as a witness before the US House of Representatives Financial Services Committee.
Sam Bankman-Fried was born on March 6, 1992 in a Jewish family in California (USA). He is the founder of crypto exchange FTX and investment fund Alameda Research.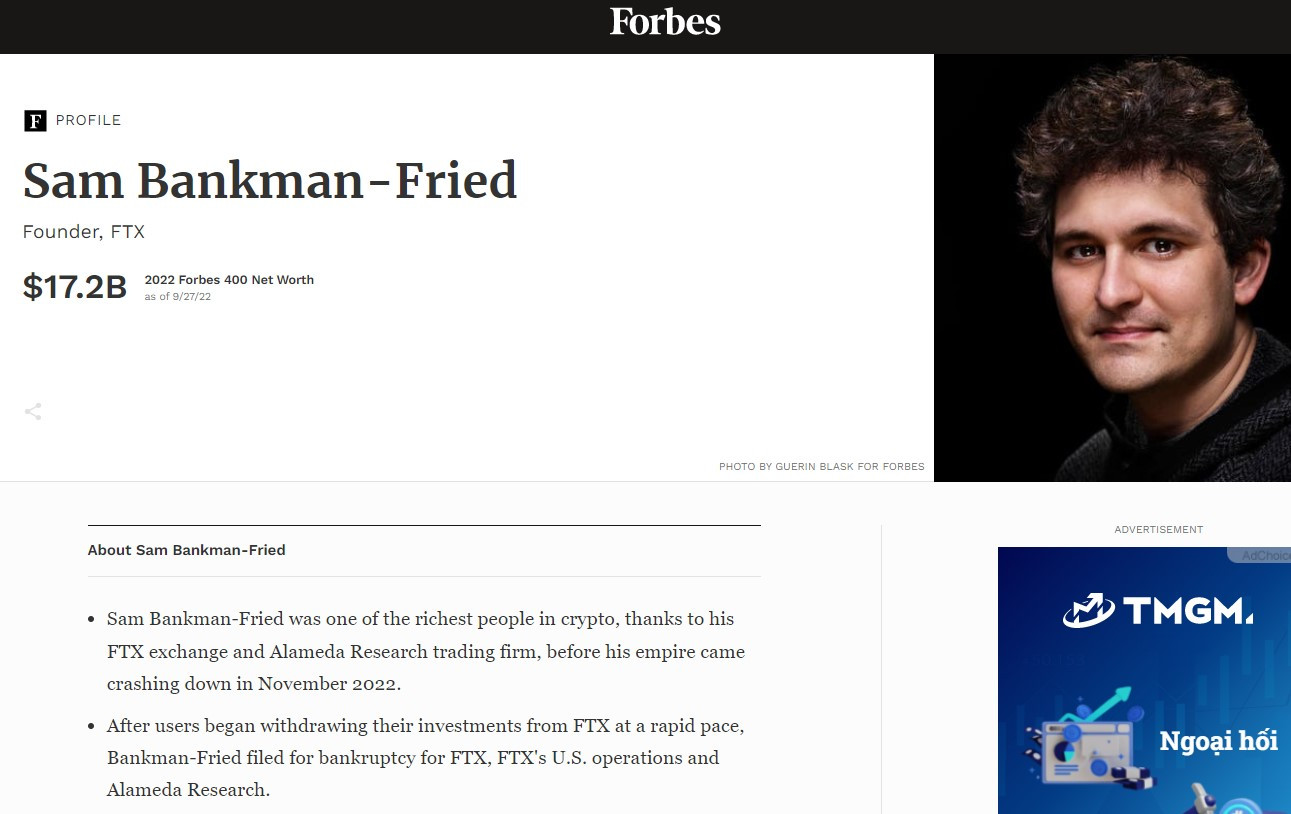 With FTX once rising to become the 2nd cryptocurrency exchange in the world and the 1st in the US, there were times when Sam Bankman-Fried's total net worth exceeded 17 billion USD at times. This huge amount makes Sam a young self-made billionaire in the top richest people in the world (ranked 41st according to Forbes' updated list on September 27, 2022).
Standing at the peak of fame, but Sam Bankman – Fried was poured a "cold water" when the billionaire's assets evaporated quickly after less than a week.
The crisis that started on November 8, 2022 made FTX insolvent due to the overwhelming pressure of withdrawal from users. Four days later, Sam Bankman-Fried submitted his resignation and the FTX exchange declared bankruptcy. In less than a week, the asset value of CEO 9x has plummeted, and at the same time kicked Sam "curly" from the list of billionaires.
Trong Dat