Update the list price and roll the latest Ford Territory wheels in all versions.



Ford Territory is a cooperation product between Ford and JMC (China), first introduced in 2018. Two years later, the car is sold in South America, China and the Philippines.
In Vietnam, Ford Territory was officially launched on October 10, 2022. The car being sold on the market belongs to the 2nd generation.
Ford Territory has a 5-seater design, aimed at young, dynamic, and connected customers. The car is positioned in the C-size high-rise car segment, competing with Hyundai Tucson, Honda CR-V, Kia Sportage, Mazda CX-5, Mitsubishi Outlander, Peugeot 3008, Subaru Forester and Volkswagen Tiguan.
The new generation Ford Territory has 5 exterior color options including: White, Black, Brown, Silver and Red. Interior color will be white for the Trend version and dark blue for the Titanium and Titanium X versions.
Refer to the list price and temporarily calculate the Ford Territory car for the month of February 2023
Version
Listed price
(billion VND)
Temporarily calculated rolling price (billion VND)
Endow
Hanoi
City. Ho Chi Minh City
Other Provinces/Cities
Ford Territory Trend
822
942
926
907
–
Ford Territory Titanium
899
1029
1011
992
Ford Territory Titanium
935
1069
1050
1031
*Note: the above rolling price is for reference only, the price does not include promotions at the dealer, the price may vary depending on the area and equipment of each vehicle.
Detailed specifications of the Ford Territory 2023 car
Specifications/Versions
Ford Territory Trend 1.5 AT
Ford Territory Titanium 1.5 AT
Ford Territory Titanium X 1.5 AT
Dimensions – Weight
Dimensions DxRxC (mm)
4,630 x 1,935 x 1,706
Wheelbase (mm)
2.726
Ground clearance (mm)
180
Number of seats
05
Fuel tank capacity (L)
60
rims
18-inch aluminum alloy rims
18-inch aluminum alloy rims
19 inch aluminum alloy rims
Tire size
235/55R18
235/55R18
235/50R19
Front/rear brake
Disc brake
Electronic handbrake
Have
Front suspension
Independent suspension, cylindrical springs, stabilizer bar and hydraulic shock absorbers
Rear suspension
Multi-link independent suspension, cylindrical springs, stabilizer bar and hydraulic shock absorbers
Engine – Gearbox
Engine type
1.5L Ecoboost turbocharged petrol, I4
Maximum power (Ps/rpm)
160/5,400-5,700
Torque (Nm/rpm)
248/1,500-3,500
Cylinder displacement (cc)
1,490
Drive system
Front Wheel (FWD)
Gear
7-speed automatic
Drive mode system
Have
Power steering
Electric power assist
Fuel consumption on urban roads (L/100km)
8.62
Out-of-town road fuel consumption (L/100km)
6.12
Combined road fuel consumption (L/100km)
7.03
Exterior
Front lighting system
LED
LED, automatically turn on and off
LED, automatically turn on and off
Anti-glare headlights
Are not
Have
Have
Daylights
Have
Have
Have
Automatic wipers
Are not
Have
Have
Fog lights
Have
Have
Have
Electrically adjustable outside rearview mirror
Electric folding
Electric folding, drying
Electric folding, drying
Panorama window
Are not
Have
Have
Smart hands-free opening/closing tailgate
Are not
Have
Have
Interior – Comfort
Start with the push of a button
Have
Have
Have
Smartkey
Have
Have
Have
Air conditioner
Automatic 2 zones
Automatic 2 zones
Automatic 2 zones
Advanced air filtration system
Are not
Have
Have
Rear air-conditioning vents
Have
Have
Have
Seat material
Vinyl Leather
Premium leather
Premium leather with ventilated front seats
Front driver's seat
10-way power adjustment
10-way power adjustment
10-way power adjustment
Leather-wrapped steering wheel
Are not
Have
Have
Rear trunk luggage tray
Are not
Are not
Have
Inner rearview mirror
Inner rearview mirror
Automatic 2 modes day and night
Automatic 2 modes day and night
Electric control glass door (1 touch up and down)
Driver's seat
All seats
All seats
Sound system
6 speakers
8 speakers
8 speakers
Entertainment screen
12.3-inch TFT touch screen
Speedometer table
7 inch TFT screen
7 inch TFT screen
12.3 inch TFT screen
Connect Apple Carplay & Android Auto
Wireless
Wireless
Wireless
Wireless charging
Are not
Have
Have
Audio controls on the steering wheel
Have
Have
Have
Safety equipment
Camera
Reverse camera
Panoramic camera
Panoramic camera
Parking assist sensor
Rear sensor
Front and rear sensors
Front and rear sensors
Automatic parking assistance
Are not
Have
Have
Anti-lock braking system ABS
Have
Have
Have
Electronic brake force distribution system EBD
Have
Have
Have
ESP . Electronic Stability System
Are not
Are not
Have
Hill start assist system
Have
Have
Have
Lane departure warning system LKA
Are not
Have
Have
LWA Lane Keeping Assist
Are not
Have
Have
Cruise control
Have
Adaptive cruise control
Adaptive cruise control
Collision warning and emergency brake assist
Are not
Have
Have
Blind spot warning combined with cross-traffic alert
Are not
Have
Have
Tire pressure control system
Have
Have
Have
Anti-theft system
Have
Have
Have
Front airbag
Have
Have
Have
Side airbags
Have
Have
Have
Curtain airbags on both sides of the roof
Are not
Have
Have
Refer to the design of the Ford Territory 2023 car
Exterior
Ford Territory 2023 has length x width x height measurements of 4,630 x 1,935 x 1,706 (mm), respectively. The wheelbase reaches 2,726 mm and the ground clearance is 190 mm. The car's appearance looks superficial, sporty, and modern with a large octagonal grille shaped like a honeycomb mesh arranged in a matrix style.
The daytime LED strip has a sharp hook shape with slender lines. Low-set LED headlights look more aesthetically pleasing and increase illumination.
The body of the Ford Territory 2023 has many embossed lines running along, emphasizing the muscular beauty typical on SUVs. The car uses dual 5-spoke alloy wheels with sizes from 18 to 19 inches, depending on the version, with 235/55 and 235/50 tires respectively.
The rear of the car has the appearance of 3D embossed shapes that look youthful and dynamic. Slim, delicate LED taillights, using new lighting technology.
Interior
The interior space of Ford Territory 2023 is exquisite, luxurious and comfortable. All the details on the dashboard surface are minimized to the fullest extent and focus on a pair of trendy 12-inch dual screens, housed in one glass. In particular, the central entertainment screen connects Apple CarPlay / Android Auto wirelessly, but does not use SYNC.
All seats on the car are upholstered in genuine leather. On the most advanced version, the car seats also have air vents, automatic cooling. In particular, the driver's seat is 10-way power adjustable, the front seats have a cooling feature.
The second row of seats has a spacious design with legroom that is flat with the floor. This row of seats can be folded down to help expand the luggage compartment volume from 448L to 1,422L.
Other outstanding equipment on the Ford Territory 2023 can be mentioned: push button starter, 2-zone automatic air conditioning system, knob-type gearshift, wireless phone charger, electronic brake, automatic anti-glare mirror dynamic, panoramic sunroof, more than 20 storage compartments distributed throughout the inside of the car,…
Engine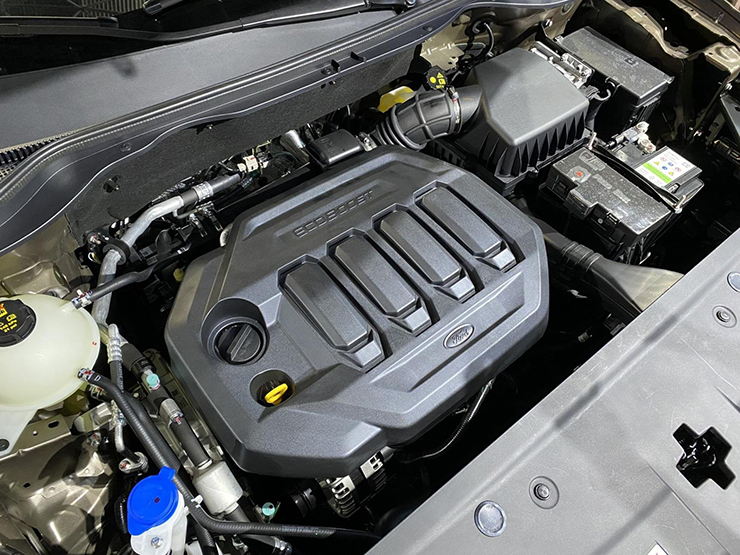 Ford Territory 2023 is equipped with a 1.5L turbocharged gasoline engine, producing 160 horsepower and 248 Nm of torque. Power is transmitted to the front wheels through a 7-speed automatic transmission. Along with that are 4 driving modes: Eco (Eco), Normal (Normal), Sport (Sport), Mountain (Mountain).
Safe
Ford Territory 2023 is equipped with Ford Co-Pilot 360TM advanced driver assistance technology package with nearly 20 outstanding safety features such as: automatic parking, 360-degree camera, BLIS blind spot warning system combined with Scene Cross-traffic alert, adaptive cruise control (ACC) with stop and go, collision warning combined with automatic emergency braking (AEB), door opening collision warning, warning lane departure and lane maintenance, tire pressure control, electronic balance of the latest 9th generation Bosch,…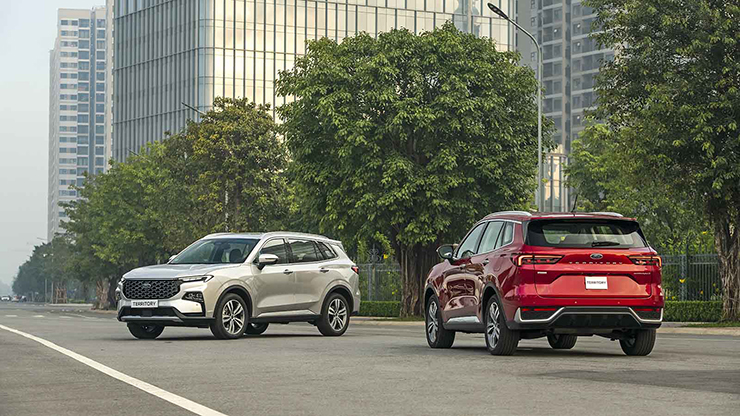 Ford Territory car review 2023
Advantage:
+ Beautiful, modern and sophisticated design
+ Spacious interior, lots of storage space
​ + Many technological equipment and smart features
​ + Relatively enjoyable experience.
Defect:
​ – There is no 4-wheel drive version.
– The engine is somewhat weaker than the competitors.
According to Nhat Ha (Vietnamese countryside)


You are reading the article Ford Territory car prices listed and rolled in February 2023
at Thuvienpc.com Source: 24h.com.vn Read the original article here