Create lots of playgrounds for children during the Mid-Autumn Festival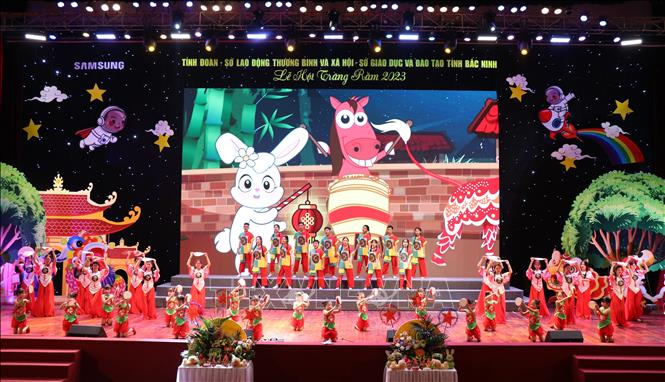 Bac Ninh Provincial Youth Association Deputy Secretary Tran Van Dang emphasized: Recently, the leaders of Bac Ninh province, all levels and branches have always regarded the duty of protecting and caring for children as one of the important contents, contributing to the creation of a high level of education. -quality human resources for the future prosperity and happiness of Vietnam.
Whatever the conditions and circumstances, socio-political organizations, schools, families and all levels of society always prioritize education, protection, care and improvement of material life and enthusiasm for children. By holding the Full Moon Festival program, the Organizing Committee hopes to create a beneficial playground for children to immerse themselves in the space of fairy tales; Through that, I hope you will try, practice and learn so as not to disappoint the hopes of provincial leaders, teachers and parents, to become good Uncle Ho's children.
The Full Moon Festival Program is an annual activity that has practical significance to increase the attention of Party committees, authorities and society at all levels to the protection, care and education of teenagers and children. ; contributes to motivating and encouraging children to learn and practice, and at the same time creates a beneficial playground, helping them develop in German – Mind – Fitness – Beauty. This program also aims to help children awaken a sense of pride in the traditions of the Party and the homeland, strive to be worthy of being children of the homeland in the "A Thousand Good Deeds" movement, and contribute actively in preserving and advancing national culture.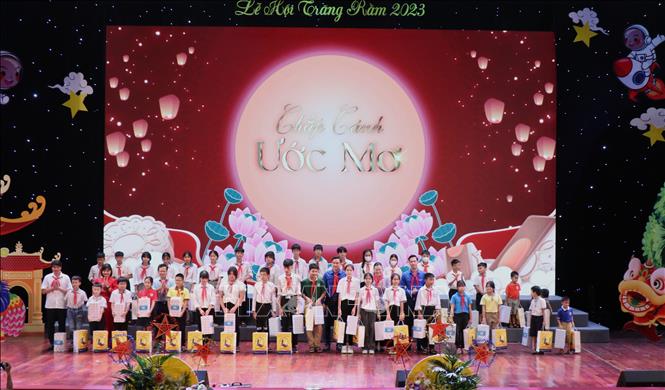 Carrying the theme "Give Wings to Dreams", Full Moon Festival 2023 is a special gift for children for the Mid-Autumn Festival. Leading up to the festival, children across the province can immerse themselves in the lively atmosphere of the August Full Moon with many unique, fun cultural and artistic activities such as: Lion dance, August lantern procession, dancing, dancing, sports, watching folk games, entertaining … At the same time, children have the opportunity to live in a fairy tale room with Uncle Cuoi and Ms. Hang.
On this occasion, the Organizing Committee and sponsors gave 80 gifts to children in difficult circumstances, struggling to achieve many academic achievements; In this way, showing the spirit of solidarity, mutual love, sharing and caring for the whole community, encourages children to overcome difficulties and continue to excel in their studies.
* Evening of September 27, City Police Can Hosting a fun Mid-Autumn Festival entertainment program with the theme "Month of Love".
Attending the program, 1,480 children enjoyed musical performances, magic, circus and interactive dance activities with the Organizing Committee.
Speaking at the event, Can Tho City Police Director Nguyen Van Thuan wished children a meaningful and loving Mid-Autumn Festival; At the same time, praise some children who, despite difficult circumstances, keep trying, maintain their academic performance, and do a lot of good.
The Can Tho City Police Director asked party officials and leaders of police and regional units to pay more attention to the care and protection of children. The Youth Union, Women's Union and City Police Workers' Union need to focus on properly implementing the "For Beloved Juniors" action movement by creating many playgrounds and activities suitable for teenagers and children so that they can have conditions for learning, playing and growing. healthy one. .
On this occasion, the Can Tho Municipal Police awarded prizes and scholarships to 40 children sponsored in the "Love for Children, Post-COVID" program and the "Godmother" program; The organizing committee also gave Mid-Autumn Festival gifts to 1,480 children participating in the program; providing scholarships to children of police officers and city soldiers who have high academic achievements.
In order to create a healthy and practical playground for caring for children during the Mid-Autumn Festival, departments, branches, political and social organizations in the area have recently carried out many activities such as: awarding scholarships, giving Mid-Autumn gifts, organizing programs Mid-Autumn themed entertainment and competitions…
City departments and branches also pay attention to young people with special circumstances. Typically, the city's Department of Labor, War Invalids and Social Affairs recently held a Mid-Autumn Festival for underprivileged children and children infected with Agent Orange at the Can Tho City Social Protection Center. The Municipal Disabled People's Association coordinates with the Big Hands Joining Volunteer Club to organize the Mid-Autumn Festival – Happy Reunion program in 2023 for more than 150 disabled and disabled children in the city.
You are reading the article
Create lots of playgrounds for children during the Mid-Autumn Festival
at thuvienpc.com – Source: baotintuc.vn