Blockchain
Bitcoin price plummeted at the beginning of the week due to concerns about management
Bitcoin has just had a strong decrease in price on the first Monday morning of the week. Open the daily candle at $16,200. However, at 9am this morning, the price of Bitcoin suddenly dropped another 300 USD. If counting from 12pm last night, the price of Bitcoin has decreased by a total of 700 USD.
VietNamNet's record shows that by mid-morning on Monday, the Bitcoin price was hovering around the $15,900 mark. This price is only about $ 400 higher than the low of $ 15,500 set last week. This is also the lowest price of Bitcoin in the past 2 years.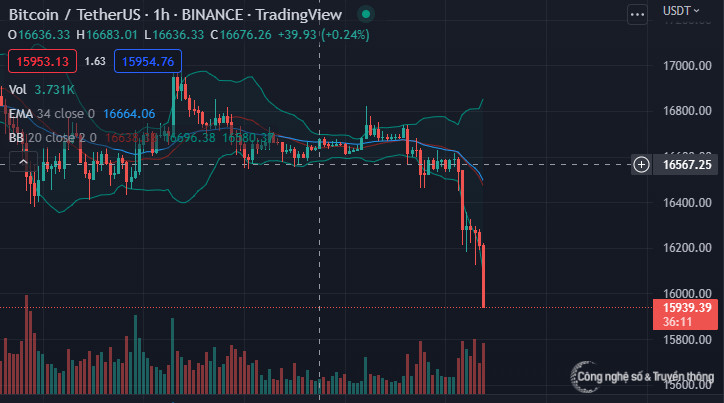 Bitcoin's price decline in the past few hours revolves around the subsequent developments of the FTX exchange crash and the collapse of the investment fund Alameda Research. Accordingly, there are many calls for stricter regulations on Bitcoin and cryptocurrencies.
Following the Group of Major Economies (G20) meeting, leaders from many of the participating countries raised the need for an international rule to govern the rapidly growing Bitcoin and crypto space. This is to minimize potential risks that could impact global finance.
Before that, FTX – the largest cryptocurrency exchange in the US and the second largest in the world lost liquidity and led to a chain crash. This led to founder Sam-Bank Fried – the richest young self-made billionaire in the world being knocked out of the billionaires list.
The move comes just a few days after Changpeng Zhao (CZ) – CEO of Binance announced his withdrawal from FTX due to suspicions that the crypto exchange was using user deposits for the wrong purpose.
After declare bankruptcy of FTX with the departure of Sam-Bank Fried, the new CEO of this exchange – Mr. John J. Ray III said that he had never met such a serious bankruptcy.
Just a few hours ago, in a move to reassure users, CZ confirmed the billionaire's confidence in Bitcoin, declaring Bitcoin will never die.
Responding to the above statement, Michael J. Saylor – CEO and co-founder of MicroStrategy immediately responded. This American billionaire believes that Bitcoin is an immortal, indestructible, indestructible foundation for building a better world.
Trong Dat