Explore
Apple's important mark in Vietnam in 2022
At more than 1 a.m. on October 7, 2022, the Mobile World mobile phone industry development director texted PV VietNamNet, informing the deposit amount for the models. iPhone 14″ reached 5,000 machines in the first 1 hour only. "Terrible", "unprecedented" are his fine words for that impressive result.
The FPT Shop counterpart also said that the iPhone 14 Series order "beyond all expectations". This is the first time that some retailers in Vietnam update orders by the hour.
First time taking number 2 in Vietnam
The reseller's rhetoric for Apple turns out to be more than just polish.
GfK data shows that, in October 2022, Apple achieved a market share of 20.5%, just less than 1% more than Oppo, taking the No. 2 largest smartphone brands in Vietnam.
Perhaps it was the first time Apple achieved such a high market share in the domestic market.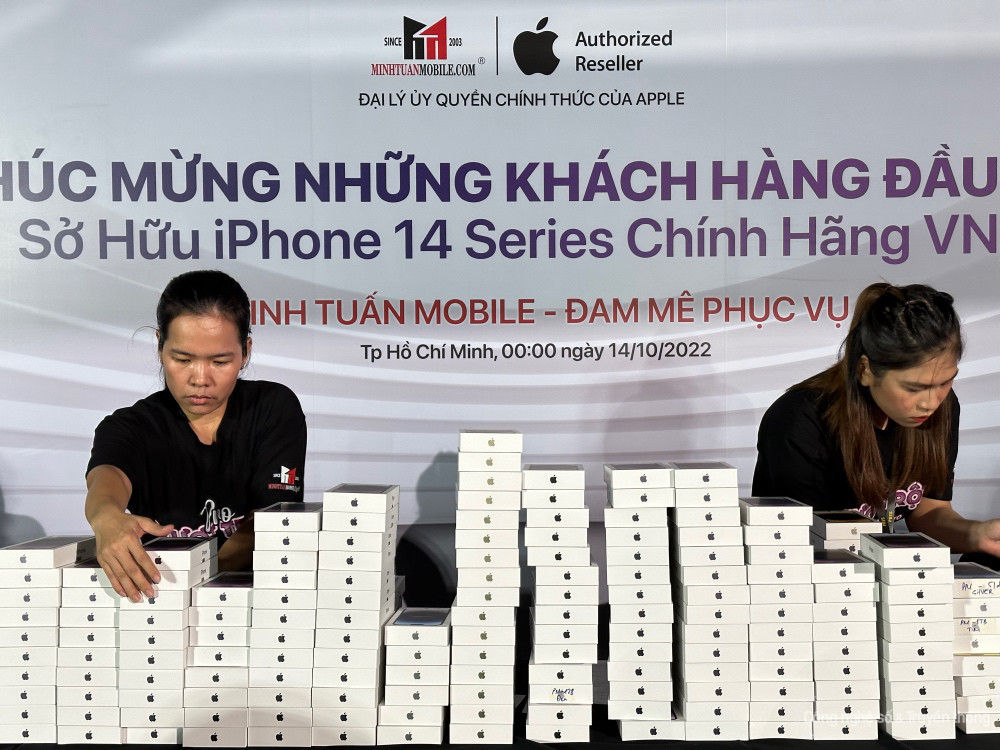 According to data, the total number of smartphones consumed in Vietnam in October 2022 reached about 1.2 million units. With a market share of 20.5%, Apple sold about 240,000 devices.
Topping the list of best-selling smartphones of the company in the month are the iPhone 14 Pro Max model, followed by the previous Pro/Pro Max generation. In the 10 best-selling smartphones alone, Apple achieved nearly VND 6,000 billion in revenue in October alone.
Commenting on this, a senior manager working in a smartphone company in the top 5 in Vietnam said that the heat of iPhone 14 has helped Apple increase sales. Besides, the decline in the portable market also led to an increase in genuine retail sales.
In principle, when users focus on buying genuine machines in the context of less portable goods, Apple's market share will be returned to its inherent value.
As usual, Apple's market share continued to increase in November and December and gradually decreased from January of the following year. This is due to the effect of the iPhone launched in September, helping to boost sales for the company not only in Vietnam but around the world.
"Apple Store" covers the market
These impressive numbers do not come to Apple on their own. The company had a very thorough preparation process before that.
Exactly 1 year before that, in October 2021, right after Vietnam officially opened after the Covid-19 pandemic, a series of mono store specializing in selling Apple products began to appear. TopZone, ShopDunk are prominent names opening a series of beautiful stores that only sell Apple products.
Until now, both of these names have contributed more than 150 stores in major cities across the country, creating a network of "miniature Apple Stores" for users to experience before buying. These beautiful, luxurious stores are like miniature Apple Stores, contributing largely to upgrading the image of Apple and iPhone.
That's not to mention thousands of other authorized Apple stores located all over 63 provinces and cities nationwide, ready to deliver to customers within the day, even hourly or minutely.
The proliferation of genuine Apple stores has greatly contributed to the narrowing of small shops specializing in selling portable goods. It is difficult to say whether this boom causes the portable market to shrink, or vice versa, from Apple's commitments to limit the portable market, retailers have boldly expanded mono stores. to serve the customers of the most valuable technology company on the planet.
Lack of goods and "beer with peanuts"
Usually, new iPhone stock will not meet demand in the first few weeks of launch. This is due to the difference in the forecast of the source of goods and the actual demand of each country and region. This year, however, the scarcity lasted longer.
The CellphoneS chain said that it will not be until early December to pay all the orders that have been deposited in October, especially with orders for the purple iPhone 14 Pro Max – the most expensive version in the iPhone 14 Series.
The shortage of iPhone 14 Pro Max due to the strong attraction of this model. There is also a reason why China closed the factory due to the Covid-19 epidemic, or the Russia-Ukraine conflict, which made the supply chain difficult.
In addition, retailers also complain about having to "sell beer with peanuts", meaning they have to import less popular models like iPhone 14 and iPhone 14 Plus if they want to get iPhone 14 Pro and iPhone 14 Pro Max. .
In fact, the "selling beer with peanuts" has been going on for many years and has been applied by many brands in the market.
Vietnamese customers still prefer to own high-end Pro series products, while Apple clearly wants to popularize lower-end devices in order to dominate many price segments.
Looking back at 2022, Apple has had many important milestones in Vietnam both in terms of brand image, market share, and sales coverage.