Sản phẩm
Apple's huge revenue in Vietnam
In the financial statement for 2022 published by Mobile World Investment Joint Stock Company (MWG), the company has short-term payables to suppliers such as Samsung, Apple, LG, Sony, Panasonic …
Notably, at the end of 2022, MWG has to pay Apple Vietnam Co., Ltd. about VND 1,256 billion, more than double the expenses for LG Electronics Vietnam Hai Phong (VND 467 billion), Panasonic Vietnam (VND 467 billion), Panasonic Vietnam (VND 467 billion), and Panasonic Vietnam (VND 467 billion). 419 billion VND), Sony Electronics Vietnam (231 billion VND),…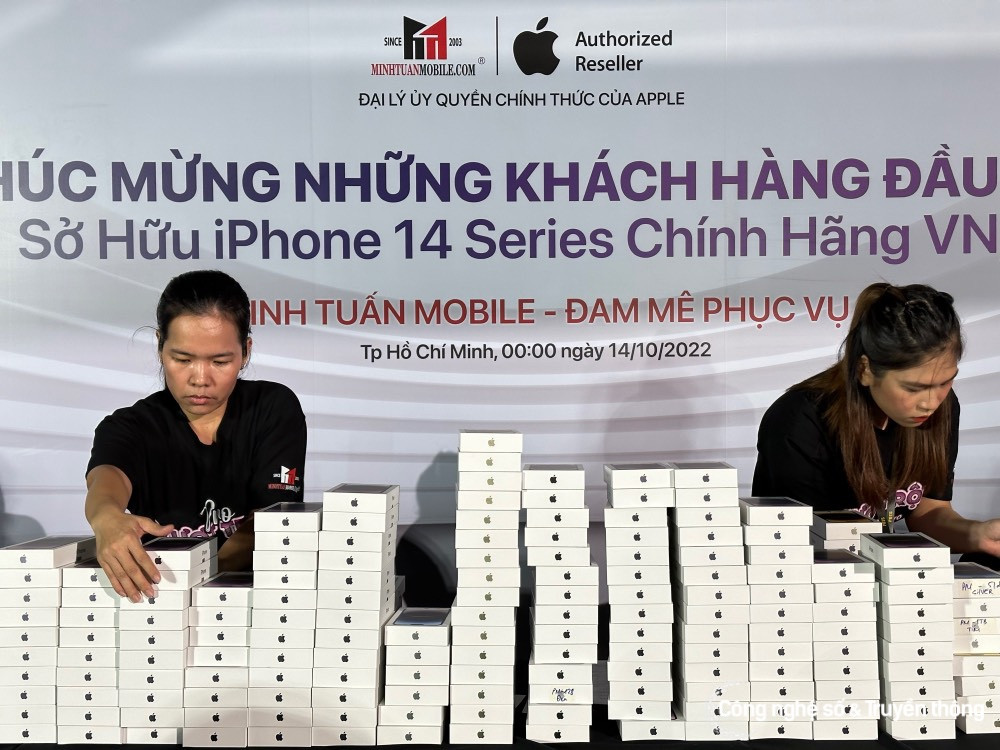 The amount of more than trillions of MWG shows the huge value of the source of goods that this retailer imports from Apple. It also represents Apple's superior sales compared to other suppliers.
This is quite understandable when the selling price of Apple products is always high. Besides, the attractiveness of the brand makes retailers have to maintain enough goods to sell to customers.
For example, to import iPhone 14 Series products, retailers must collect 4 models at the same time: iPhone 14, iPhone 14 Plus, iPhone 14 Pro, iPhone 14 Pro Max. Each product comes in different capacities: 128GB, 256GB, 512GB, 1TB and at least two colors.
To equip enough models with different colors and memory capacities, retailers have to spend billions to store inventory for each store. For chains with hundreds or thousands of shops, the number increases a lot. Not to mention other product lines such as iPad, AirPods, MacBook, etc.
According to the report of Mobile Worldthe amount payable to Apple at the end of the year increased to more than trillion, but this figure at the beginning of the year was only about 403 billion dong, proving that businesses have to spend more money to import new iPhones.
Indeed, even though it is only open for sale in the last two months of 2022, the iPhone 14 Pro Max has reached the top of the best-selling products in some places. At FPT Shop, this product ranks 8th in the best-selling smartphones in 2022 and ranked 4th in terms of revenue. In addition, the top 10 list of FPT Shop also recorded top products including iPhone 13, iPhone 11.
In just the first few days of selling iPhone 14 Series in October 2022, FPT Shop announced to launch 14,000 devices, earning a record number of VND 400 billion.
At Mobile World, the TopZone chain specializing in selling Apple brought in VND 2,600 billion in 2022, pulling Apple's revenue up 40% over the previous year.
Large sales and the attraction of iPhone products make many retailers have to invest huge amounts of money to import goods. Having an iPhone will attract customers, helping to sell more products in the Apple ecosystem and other brands.
The attraction of iPhone 14 Pro / Pro Max has led to the phenomenon that some suppliers require retailers when importing "hot" iPhone lines to include some less popular products, including other iPhone versions. and AirPods, iPad, MacBook, etc. The incident "selling beer with peanutsThis prompted the Ministry of Industry and Trade to investigate.