Life
An 85-year-old man who married a 24-year-old girl wants to have 2 children despite his age
Life of a 24-year-old wife, 85-year-old husband
According to the New York Post, 24-year-old Miracle Pogue met her 85-year-old husband Charles while working at a laundromat in 2019. The two became friends and quickly fell in love a year later. Charles proposed to Pogue in February 2020 and the couple got married last summer.
Young wife Miracle shared about her husband's age: "I don't care if Charles is 100 or 55 years old. I just know that I like him. At first, I thought maybe Charles was around 60 or 70 years old because he looked very handsome and was always active and active."
Miracle said that her mother and grandfather were supportive of this relationship from the beginning. As for her father, it took a long time to convince.
Meanwhile, 85-year-old Charles falls in love with his young lover because to him she is a wonderful woman. "She is great. She knows how to organize and take the initiative in life. The wedding day is the best day of my life. The age difference is not a big deal for us. People talk about it but we do. I don't care. We are very happy together," Charles shared.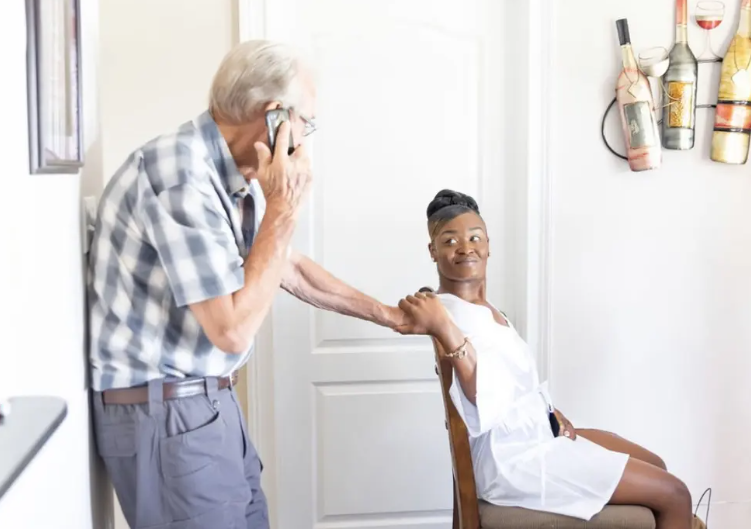 It is known that Miracle Pogue is attracted by Charles's laid-back, peaceful personality, caring for others, not liking much controversy. She admitted that the age gap only appeared when the pair talked about technology.
"He's mild-mannered, has a laid-back personality. I love listening to his stories. I often make fun of him for being someone who doesn't know much about technology. Even he doesn't have a card. bank", said Miracle Pogue.
Many people mistakenly call them father and son
The couple is often mistaken for father and daughter when going out. Once, when Miracle Pogue and Charles were on vacation in Florida, they rented a self-driving car. The owner of the rental store asked Miracle Pogue a firm question, is this your dad? In order not to have to explain much, Miracle Pogue nodded in agreement.
"I'm not angry about such comments or confusion. I don't care too much about what other people say," Miracle Pogue said.
The love story of the two is shared all over the internet society and quickly attracted attention. Many people think that Miracle Pogue is taking advantage of Charles.
"People say I take advantage of Charles. But remember, I'm a nurse. I live well whether I see Charles or not," the young girl asserted.
Despite their age, the couple is planning on in vitro fertilization and hopes to have two healthy children soon. Although Charles is always shown to be enthusiastic, healthy and full of energy, Miracle Pogue admits there are times when she worries about his health.
Now, this couple with a 61-year age difference is enjoying the happiest moments of their lives every day and is optimistic about the future. Miracle calls her husband "the knight that shines in her life".
Truc Chi (according to VietnamnetYouth)
You are reading the article
An 85-year-old man who married a 24-year-old girl wants to have 2 children despite his age

at
Thuvienpc.com
– Source:
www.nguoiduatin.vn
– Read the original article
here