Usually, adults do not give gifts of too great value or too expensive to children because of the fear of losing or dropping them. However, recently, an 8-year-old girl received a diamond bracelet from her classmate.
Local media reported that on February 14, 2023, an 8-year-old girl living in Yiyang City, Hunan Province, China, came home from school with a necklace in her hand. At first, the girl's mother, Ms. Tang, was not too concerned, thinking it was just a toy for her daughter. However, after looking closely, Ms. Tang noticed that the necklace was very similar to the real thing, so she asked her daughter where she got it from.
The 8-year-old daughter honestly replied to her mother that this was a gift that a male classmate gave her on the occasion of Valentine's Day February 14. At first, the girl refused to accept this necklace, but the male friend insisted on giving it to her and refused to take it back, so the girl had to take it home.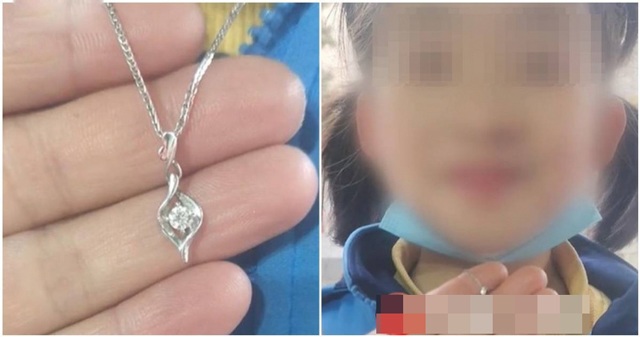 When she heard her daughter tell this story, Ms. Tang was both surprised and amused, unable to believe that her 8-year-old daughter had received a Valentine's gift. However, Ms. Tang thought that a daughter could not accept such a necklace by default, so she called the other male friend's parents to ask. At that time, Ms. Tang learned that the necklace was real, the chain was made of platinum and the stone face was diamond, worth up to 20,000 yuan (more than 69 million dong).
Ms. Tang was extremely shocked and surprised when she learned of the "terrible" value of the necklace, even more surprised to learn that it was originally the boy's mother's necklace, but the boy innocently took it from his mother and gave it to his girlfriend. class that I like.
The boy's parents also did not know anything about their son taking a diamond necklace to give to a female classmate. What's more surprising is that after learning about the incident, the boy's parents still coldly said that the given things could not be returned. Even so, Ms. Tang still explained to her daughter that the gift could not be accepted and decided to return it the next day.
After this story was spread on social networks, netizens expressed many different emotions, some surprised at the gift of the "playable" boy, surprised at the attitude of the boy's parents, people admire Ms. Tang's handling:
"Since childhood, I have never been given a gift of such great value. I feel more defeated than an 8-year-old child."
"While I'm 30 years old and still struggling, the 8-year-old girl received a Valentine's gift worth nearly 70 million, life is unfair."
"This boy is very timely, must book in advance in this fierce competition."
"The boy's parents are too generous. Anyway, admire the girl's mother's handling"…
You are reading the article
8-year-old daughter was given a diamond necklace of nearly 70 million on Valentine's Day, the mother has a commendable action

at
Thuvienpc.com
– Source:
Eva.vn
– Read the original article
here