Kinh Doanh
Waiting for banks to reduce interest rates
On February 9, talking to a reporter of Nguoi Lao Dong Newspaper, leaders of a number of commercial banks said that they are carefully calculating the adjustment. interest rates mobilize to have room to reduce lending interest rates. Earlier, at a real estate credit conference organized by the State Bank of Vietnam, a number of "big men" commercial banks expressed their agreement to further reduce interest rates.
Want to do it now but have to calculate
As of the afternoon of February 9, the deposit interest rates of 4 state-owned commercial banks including Vietcombank, VietinBank, BIDV and Agribank and many other joint stock commercial banks have not yet been adjusted.
A deputy general director of Vietnam Joint Stock Commercial Bank for Industry and Trade (VietinBank) said that it is expected that on February 10, the bank will have a meeting with the management board to calculate how to adjust the deposit interest rate so as to have less impact on capital flows. flows into banks, when interest rates in many other joint stock banks are still very high.
A representative of a state-owned commercial bank also said that they are calculating carefully because the fact that the deposit interest rate at the bank is already low compared to the market. Currently, the highest deposit interest rate at these 4 state-owned commercial banks is 7.4%/year for terms of 12 months or more.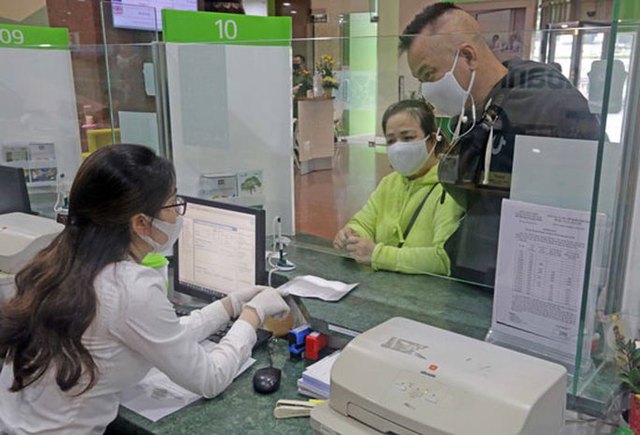 Not only people, businesses but even banks have "headaches" because lending interest rates remain high. Photo: LAM GIANG
In joint stock banks, interest rates have not changed compared to the previous day. However, compared to the end of last year, most banks have now adjusted down to less than 9.5%/year after banks agreed with the proposal of the Vietnam Banks Association (VNBA) and the State Bank.
As at Vietnam Technological and Commercial Joint Stock Bank (Techcombank), in the latest interest rate table applied from February 7, the deposit interest rate for terms of 13 months or more has decreased to 8.7%/year compared to the high level. at least 9.2%/year before.
Talking to a reporter of Nguoi Lao Dong Newspaper, Nguyen Quoc Hung, General Secretary of VNBA, said that commercial banks would like to further reduce deposit rates so that there is room to reduce lending rates, but how much must be reduced? carefully calculated in the context that the US Federal Reserve (FED) has just continued to increase the basic interest rate by 0.25%; In the domestic market, inflation pressure increases as the price of gasoline, electricity and many other consumer costs continue to go up…
Interest rates are too high, banks are also "suffering"
Information that commercial banks are moving to reduce interest rates has just been announced, not only attracting the attention of businesses but also those who are taking home loans and consumer loans.
Mr. Thai Ngoc (living in Thu Duc City, Ho Chi Minh City) has a home loan at a commercial bank, said he has just received a notice to increase interest rates from 10.5%/year to 13%/year. "At the time of signing the loan contract, the bank stipulates that the floating interest rate is 11%/year, but now it "jumps" up to 13%/year, while the economy is difficult, my family's income is being affected. decline, the pressure on loan interest is increasing," said Mr. Thai Ngoc.
Previously, Nguoi Lao Dong Newspaper also noted the comments of many production and business enterprises reflecting high lending interest rates in the context of economic difficulties, which significantly affected their cash flow.
On the other hand, high interest rates also make it difficult for banks to disburse loans at the beginning of the year. A credit officer of Vietnam Export-Import Commercial Joint Stock Bank (Eximbank) said that the home loan interest rate at this bank applying the preferential program is about 13.5%/year, but then it can be up to 15%-16%. /year makes customers embarrassed.
"If a new loan is taken, customers have to bear a rather high interest rate. In fact, from the beginning of the year until now, no home loan or real estate investment loan (applicable to any individual customers) has been resolved. bank" – this credit officer said.
The deputy general director of a large-scale joint stock bank in Ho Chi Minh City admitted that the credit demand of production and business enterprises is slowing down partly because interest rates remain high. If this situation continues, banks have to calculate and adjust their loan interest rates to increase their ability to absorb capital for the market.
"For businesses that are doing well, and long-term customers of the bank, we all try to maintain a stable interest rate, do not adjust too high to avoid shock. If banks maintain interest rates, The deposit rate is high, but the loan cannot be reduced, "- said the deputy general director.
"VNBA General Secretary Nguyen Quoc Hung said that the room to reduce deposit interest rates at this time depends on many factors both objectively from international and the liquidity of each bank. It is certain that if the bank has excess capital, it will have to calculate the interest rate reduction to increase its absorption capacity…
You are reading the article
Waiting for banks to reduce interest rates

at
Thuvienpc.com
– Source:
Soha.vn
– Read the original article
here