Game
VTC "shakes hands" with Microsoft to release Empire game and develop new technology for Vietnamese games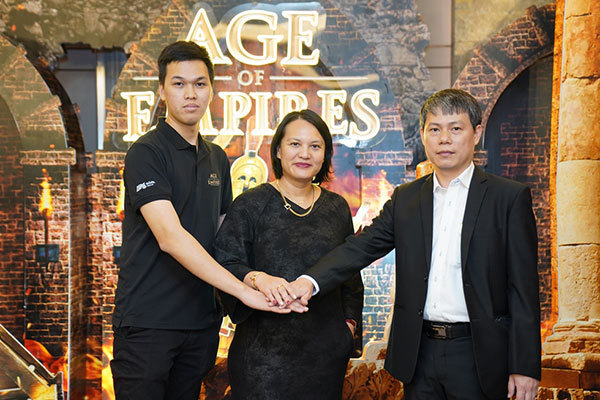 VTC "shakes hands" with Microsoft to release Empire game
On September 22, 2022, VTC and Microsoft announced the signing of a strategic cooperation agreement for the period of 2022 – 2025 in the field of e-sports in order to promote the application of technology to expand products and build the Center. Innovation in Vietnam's technology and game startups.
Currently, the world has about 3 billion people playing games and by 2030 this number is expected to increase to 4.5 billion people. Gaming is a nearly $200 billion industry with double-digit year-over-year growth.
In Southeast Asia, Vietnam is considered a game powerhouse of the region. According to statistics, Vietnam currently ranks 7th in the world and 2nd in Southeast Asia in terms of the number of downloads. In addition, Vietnam is also ranked 3rd in the Top 10 game application manufacturers in the region. For every 25 games downloaded, there is one game produced at a Vietnamese studio.
Mr. Nguyen Ngoc Bao, General Director of VTC, said: "VTC is a pioneer in introducing the eSports concept and successfully implementing it in Vietnam through a dense tournament system, typically the Vietnam eSports Championship. With available internal resources and future development ambitions, the strategic cooperation between Microsoft and VTC hopes to create many breakthrough values ​​for the Vietnamese gaming and e-sports market."
Within the framework of cooperation, Microsoft and VTC will focus on four main areas, including building an e-sports tournament system; training and improving game development skills; establish a hybrid cloud platform for VTC and support VTC to become a game startup hub in Vietnam.
Accordingly, right after signing a strategic cooperation, Microsoft authorized VTC to release Age of Empires (AoE) games versions I, II, III, and IV in Vietnam. VTC has the role of publishing, distributing, building and officially deploying e-sports tournaments and making AoE an official sport in national and regional e-sports tournaments. .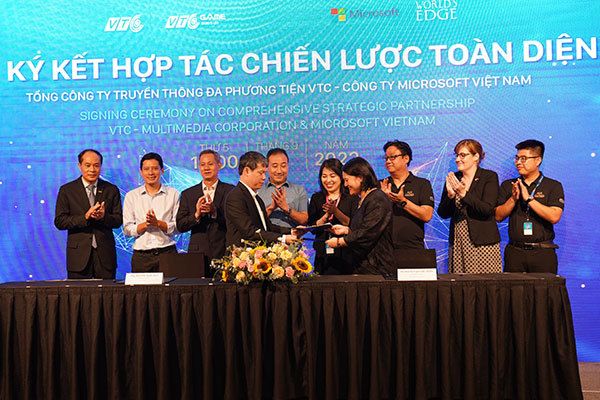 VTC signed a strategic cooperation agreement with Microsoft to develop new technology for Vietnamese games.
Microsoft and VTC will organize training and skill enhancement activities for game developers and professional e-sports athletes in the country. Microsoft will also provide game production platforms for VTC so that Vietnam can create and release games to the international market.
Under this cooperation, Microsoft will support VTC to build a Vietnam Game and Technology Startup Innovation Center to research and develop new technologies for the game market such as Liveops, Blockchain, and Web 3.0.
In addition, Microsoft will build a hybrid cloud platform for VTC and connect VTC's data center with Microsoft's global network of data centers, to provide the best service for developers, release game in Vietnam market.
Also within the framework of cooperation, VTC will invest resources to implement the project, taking advantage of Microsoft's technological strength in the field of games, infrastructure platforms, digital working environment, cloud computing, artificial intelligence. creating and and solutions for safety and security. Microsoft will also provide resources, directly or indirectly through partners, to conduct assessments, consult, transfer knowledge, share best practices, and implement agreed initiatives between the two. both sides.
Thai Khang

Back in the day, when there were not as many online games as now, these are games associated with many people's childhoods.