Kinh Doanh
Salary increases every year by 10% or more
Navigos Group recently released its Survey report Wage in 2023 based on analysis of responses from more than 4,170 participants, of which 78.11% came from companies with Vietnamese nationality. The majority of respondents belonged to Gen Y (1981-1996) with the rate of 69.28%, followed by Gen Z (1997-2009) with 19.03%. Gen X (1965-1980) accounted for 11.59% and a small part of the Baby Boomers generation (1946-1964).
According to the report, policies affecting income are the top concerns and expectations of employees. When asked about expectations for the company's compensation policy in 2023, "Wage will be increased steadily every year from 10% or more" is the option that accounts for the highest proportion with 45.62%, which is nearly half of the survey respondents.
Regarding allowances – allowances, 5.50% of respondents want the business to "More benefits from collective activities, culture, arts and tourism". They also expect enterprises to have more allowances on holidays and holidays during the year (4.70%) and an increase in basic allowances (4.58%).
However, in reality in 2022, salary increase "from 5% to less than 10%" is the dominant choice with a rate of 26.89%. The "constant" salary ranks second with a close result of 23.29% . It was followed by "less than 5%" and "from 10% to less than 15%" with votes of 15.30% and 11.66% respectively.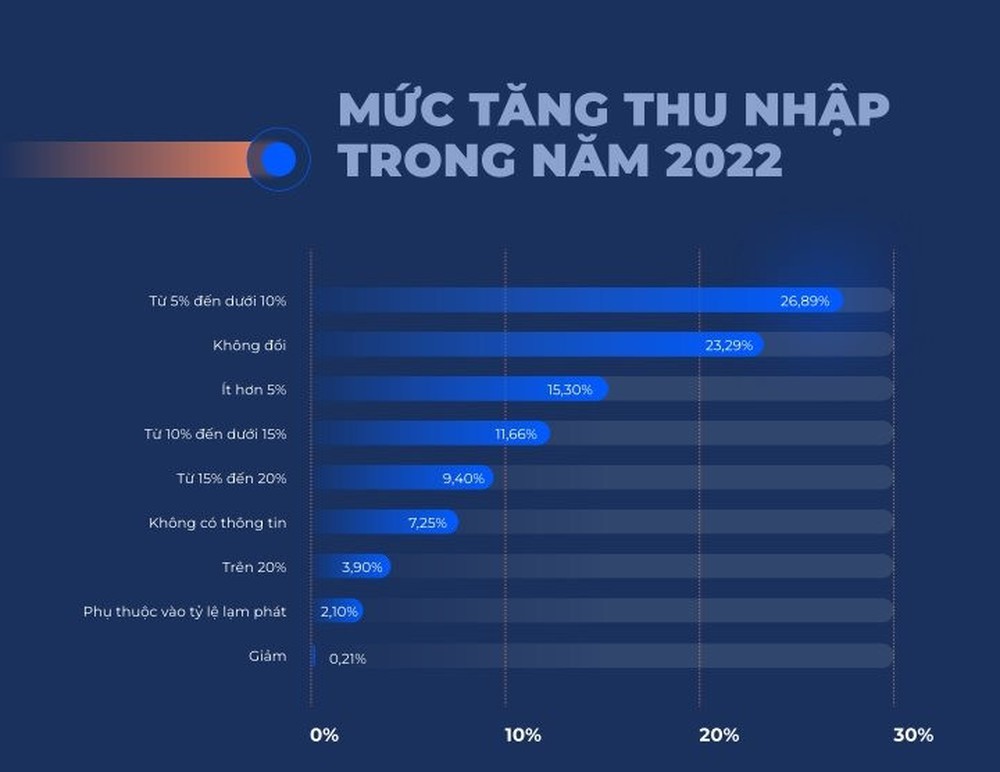 Navigos Group explained that in the past year, many businesses were still in the recovery phase after the Covid-19 pandemic, so they could not apply a more attractive salary increase policy for employees.
The survey results show that enterprises now mainly apply financial policies such as salary, bonus, allowance – allowance to create business motivation for the staff.
In addition, the enterprise also added many policies on flexible working mechanism to meet the new trend of post-Covid-19 workers, including: allowing remote working, increasing holidays, and being flexible. working from home – company,…
In addition, a number of policies on training, building a friendly working environment, applying technology, etc. are also implemented at the enterprise, but the frequency of occurrence in the survey results is not much.
On the workers side, In addition to the biggest expectation is the salary and bonus policy, they also tend to change after the fluctuations because of Covid-19 began to pay more attention to mental factors and expect a happy career.
The proof is that 9.28% of survey participants of Navigos Group "expect safety from business, career remains stable when unexpected factors/risks occur". Along with that, 7 .82 percent also "expect a change in corporate culture, with an open and frank information sharing environment".
In particular, according to the survey, salary is not the number 1 factor that keeps employees with their current company, but the working environment. 11.21% said they stay at the company because of the working environment, 10.55% because of the salary and 9.56% because of the corporate culture.
With the above survey results, it can be seen that besides salary and bonus, occupational safety and stability is also one of the expectations of employees for businesses in 2023.
You are reading the article
Salary increases every year by 10% or more

at
Thuvienpc.com
– Source:
Soha.vn
– Read the original article
here