End of scene going down to the warehouse to find medical records
Receiving an old patient who returned for examination, Dr. Nguyen Trieu Vu, Head of Oncology Department, Thu Duc City Hospital (Ho Chi Minh City) frowned and checked the information on his personal computer.
About 1 minute later, the necessary data was displayed, including the patient's MRI and CT scan results from 2 years ago. Thanks to that, Dr. Vu said that the patient's condition is progressing positively.
"In order to assess the progress of the patient, if a few years ago, I had to spend a lot of time and effort going down to the warehouse to find the paper medical records. It's much more convenient now," said Dr. Vu.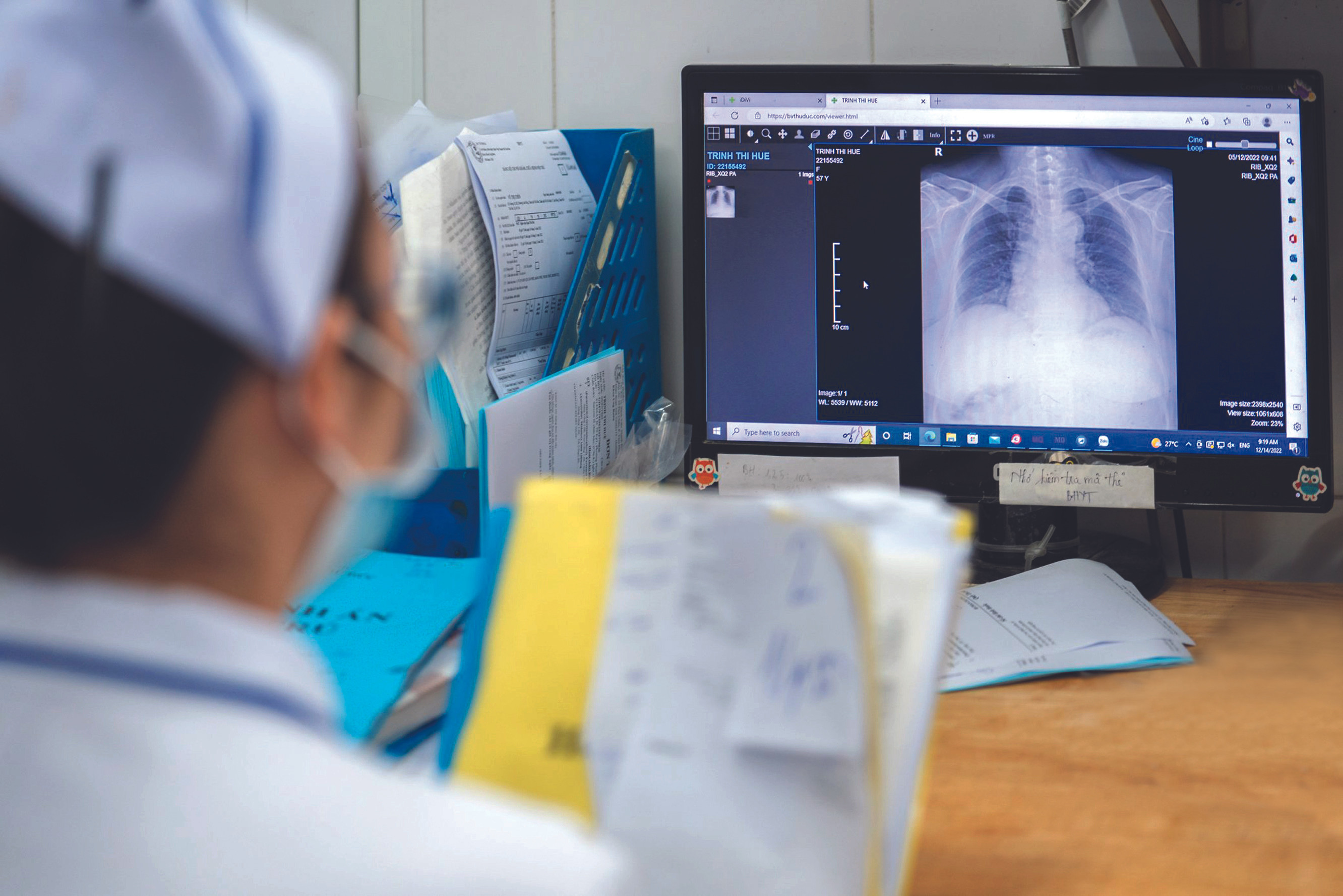 Similarly, it only takes a female nurse at Thu Duc City Hospital about 30 seconds to check the fluid for a breast cancer patient. Dosage, drug name, date and time of infusion are all displayed on the computer screen, no longer having to turn page by page and search for the drug that has been infused like before.
According to Dr. Nguyen Trieu Vu, since applying electronic medical records, doctors and nurses both save 30-40% of effort. "If storing by paper records, the volume of papers will be extremely large, having to search quite hard. With electronic medical records connected to data transmission via the Internet, even at home, I can still monitor the patient's scan results," said Vu.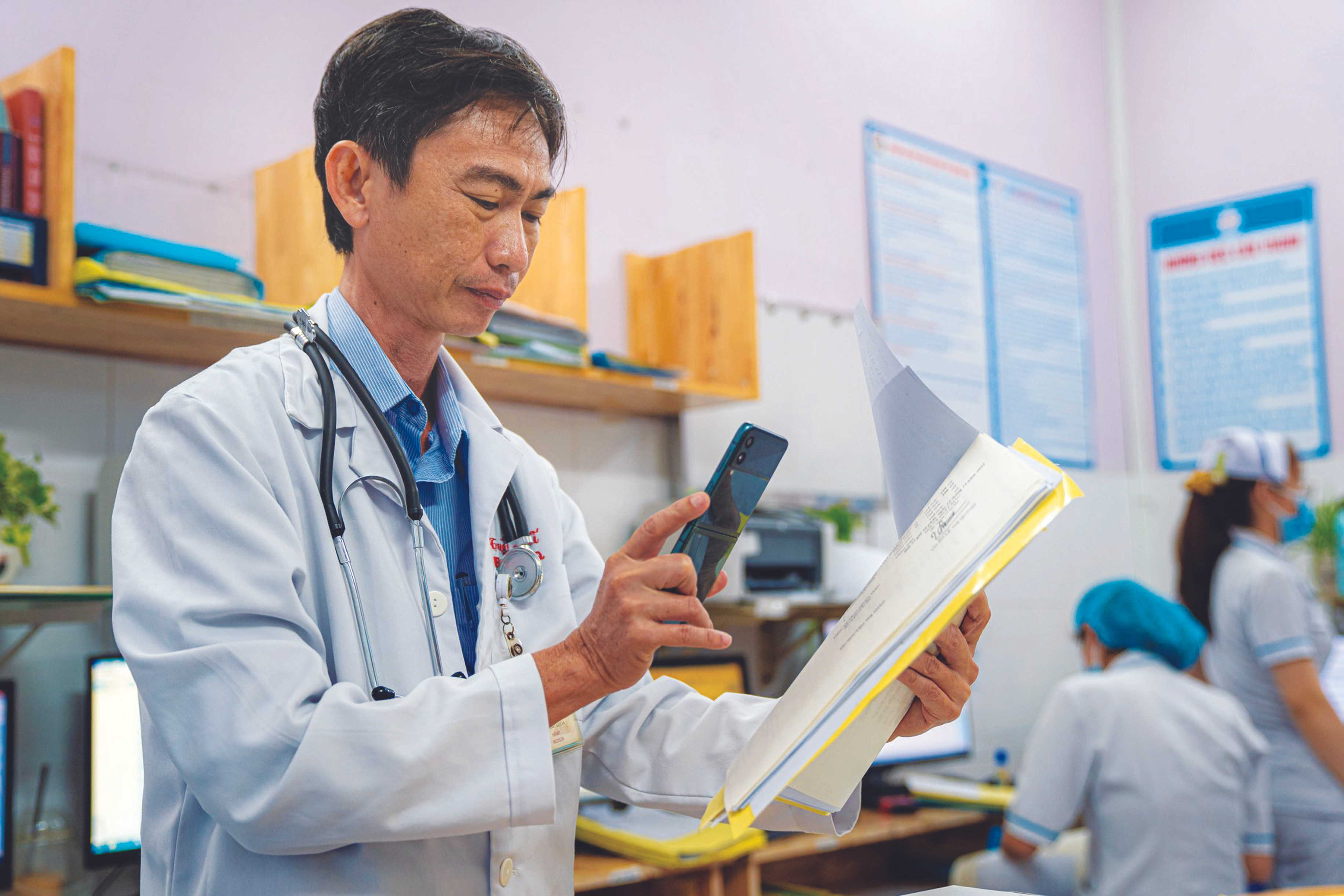 Thu Duc City Hospital is the first hospital in the country to apply electronic medical records.
Doctor Vu Tri Thanh, Deputy CEO of Thu Duc City Hospital, said that the hospital has digitized all paper medical records from 2015 and earlier. At the same time, integrated into the software over 6,000 paper documents have been scanned by specialized machines.
"The electronic storage ensures long-term, safe, saves the area of ​​paper document warehouse, serves statistics, reports, scientific research and forecasts very effectively," said Dr. Thanh. .
The results of a quick survey of doctors and nurses at Thu Duc City Hospital showed that the time to make electronic medical records was reduced by 12 minutes compared to paper medical records. In addition, 88% of people surveyed support the use of electronic medical records.
Smart healthcare is transparent
Children's Hospital 1 is one of the first medical facilities in Ho Chi Minh City to apply information technology in medical examination and treatment. Every day, the hospital receives from 5,000 to 6,000 outpatients. Inpatients about 1,500 cases.
Facing that pressure, the hospital operation still achieved efficiency and quality thanks to the implementation of many technology applications.
Dr. – Doctor Ngo Ngoc Quang Minh, Deputy Director of Children's Hospital 1, for example, prescription monitoring software has supported doctors very well for the past 10 years. The software will remind about contraindications, drug interactions… in a prescription, thereby helping to ensure appropriate and effective prescriptions.
In addition, in the past, some drugs that wanted to be used had to go through an approval process and signed a series of papers. Currently, nurses can enter drug information and doctor information into the software for quick approval, saving time for both medical staff and patients.
Similarly, People's Hospital 115 is also a bright spot in digital application in medical examination and treatment. Thanks to seamless connection and data transmission, MRI images of emergency stroke patients are transferred directly to the doctor's mobile device. Experts can assess the situation to advise interventions to help save lives during the "golden time".
The smart medical activities mentioned above are all aimed at the highest goal of facilitating and improving the quality of treatment for patients. Along with that, an undeniable effect is that medical staff are also "hands-free", significantly reducing the burden of administrative procedures and paperwork, having more time to take care of patients and do other work. professional work.
Director of the Ho Chi Minh City Department of Health Tang Chi Thuong determined that the effective implementation of the Smart Health Project is one of the key activities of the health sector in the coming time.
In particular, the outstanding goals are creating electronic health records for each citizen, applying information technology in medical examination and treatment, disease management using a digital platform, and an intelligent emergency management system. ..
Giao Linh
In 2022, the People's Council of Ho Chi Minh City conducted a survey of 4 hospitals under the Department of Health (including: Hung Vuong, Children 1, People 115, Trung Vuong) on ​​the implementation of the Medical Project. smart economy in the period of 2021 – 2025 with a vision to 2030. This project is promulgated by the City People's Committee. The common goal is to effectively implement digital transformation activities towards building big data of the health sector, helping to forecast and develop health strategies, contributing to improving the quality of health care and management of the health sector. people.
(Posted in the Vietnam Post newspaper, issue of Xuan Quy Mao 2023)